• Chronique par Derek Taylor dans Dusted Magazine (21 juillet 2015)
Professional musicians turned academic educators, Bobby Bradford and John Carter still found time to gig with semi-regularity during the decade of the 1970s. Sadly, today's curious consumer probably wouldn't know it given the paucity of aural documents commercially available that preserve their activities. No U Turn fills a lamentable breach in presenting the results of a concert from the fall of 1975 hosted by Caltech. Bradford and Carter merged their working ensembles for the occasion as the final event in a three-part series showcasing different era of jazz. Their quintet was designated as the delegate for the free "school" and the co-leaders offered up a program of five originals to a receptive audience.
Bassists Roberto Miranda and Stanley Carter are parceled into adjacent stereo channels, but the vintage fidelity, while enhanced considerably, does them each few favors, particularly during the denser ensemble passages where they have a tendency to combine into a surging mass of sound. Drummer William Jeffrey fares better, the particulars of his kit cleanly delineated, and the horns sharing the frontline closest to the microphones fare best. A 21+ minute exploration of Bradford's seminal "Love's Dream" opens the set with the cornetist surfing oceanic swells from the rhythm section with sibilant slurs and smears before settling into a protracted deconstruction of the theme. Coming after a dual arco bass with drums interlude, Carter's soprano solo is contrastingly direct and it's a treat to hear him essay at length on the straight horn.
The remainder of the program divides evenly into two compositions apiece from the co-leaders. Bradford's "She" exudes elliptical shades of Ornette's "Lonely Woman" in its loose blues dirge structure that allows for some expressive accompaniment by the bassists and Jeffrey on brushes. Carter sporadic clarinet commentary, but leaves the lead to the composer and another dark hued detour for the bassists and drums. "Comin' On" (the title piece from an earlier studio album) spools out to another third-of-an-hour and offers another extended opportunity to hear Carter improvise on soprano. Several years later he would abstain from the saxophone entirely and focus his attention solely on clarinet. The bassists once again weave a wall of arco energy for Jeffrey to bounce and carom off of and the horns divide the piece into dramatic solo and tandem territories.
"Come Softly" and "Circle" come from Carter's compositional quill, the first a perspicuous tone poem for clarinet, basses and percussion and the next another lengthy investigation for full ensemble. Carter's clarinet work on both pieces is exemplary in its blend of melodic acuity and sweeping tonal beauty. Listening to him expound so brilliantly on the reed, his impending choice to devote his time exclusively to its study becomes completely comprehensible. Bradford's solo on the latter piece can't help register as slightly anti-climactic in the face of such extemporaneous ingenuity although he still manages to make jaws drop with a statement that cuts to the quick of his horn's tonal allure. Visuals are obviously absent the music, but accompanying notes and packaging for the release do an excellent job in shoring the gap with a detailed essay by audience member and Carter-Bradford aficionado Mark Weber and a trove of period photos and associative ephemera.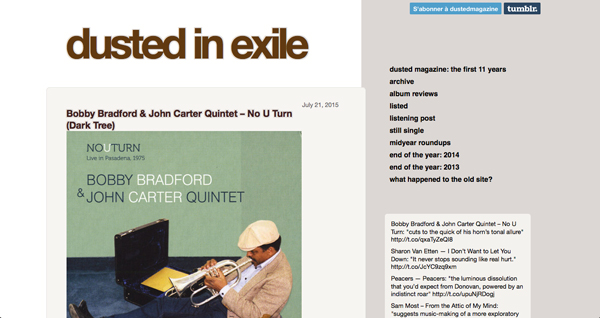 • • • • • • • • • • • • • • • • • • • • • • • • • • • • • • • • • • • • • • • • • • • • • • • • • • • • • • • • • • • • • • • •