• Chronique par Scott Yanow dans le Los Angeles Jazz Scene (août 2015)
Clarinetist John Carter and cornetist Bobby Bradford worked together on a fairly regular basis in Los Angeles from 1966 until Carter's death in 1991. They were leaders of the West Coast avant-garde jazz movement with Bradford's mellow tone being a perfect contrast to Carter's more dissonant and abrasive clarinet playing.  Other than one very obscure release for the Ibedon label, they were off records during 1973-78, a significant period. During that time, Carter stopped playing saxophones (including alto on which he had often been featured) and became exclusively a clarinetist.
The previously unreleased No U Turn fills in an important gap. Recorded live in 1975 with a quintet also featuring both Roberta Miranda and Stanley Carter on basses and drummer William Jeffrey, this live set has Carter splitting his time between soprano-sax (which he would soon give up) and clarinet. The five lengthy performances, while having brief melodies by one of the two co-leaders and some solos, emphasizes free improvisations by the ensemble. The two bassists work together quite well, Jeffrey adds stimulating and sometimes explosive accents, Bradford keeps the music somewhat melodic, and Carter shows that he was equally talented on his two horns. The high-energy music, which is decently recorded, holds one's interest throughout and is well worth exploring.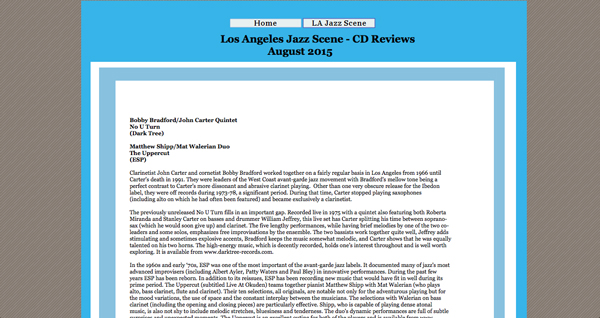 • • • • • • • • • • • • • • • • • • • • • • • • • • • • • • • • • • • • • • • • • • • • • • • • • • • • • • • • • • • • • • • •