• Chronique dans Avant Scena (11 février 2018)
"Stomiidae" was released on January, 2018. This album was recorded by three outstanding jazz legends – Chris Pitsiokos (alto saxophone), Daniel Levin (cello) and Brandon Seabrook (electric guitar). All these three musicians have original improvising style. Interesting melodies, especially expressive playing manner, sharp and aggressive sound, powerful and turbulent blow outs, huge variety of different sounds and strange timbres – all these elements form the main sound of their improvisations. The musicians had been playing together as a trio many times – they feel each other very well and, even though, their improvisations are different, all of them gently fit together in one place. The musicians are active and original avant-garde jazz players. They always pay attention to the extraordinary sound creation – each of them search for a new and unusual playing techniques, combine together unusual and interesting instruments or music styles. All three of them like to experiment and improvise spontaneously – the biggest part of their improvisation is based on free and expressive collective improvisations.
This album compositions are based on avant-garde jazz elements. Original, interesting and exciting sound is in all compositions of this album. The sound is constantly changing – sometimes it's very sharp, loud, aggressive and rigorous, sometimes – soft, peaceful, playful, striking or dramatic. The musicians try out many different playing techniques – from glissando, wild fast arpeggio, colorful trills, furiuosly speedy passages and other combinations of traditional playing techniques to the innovative and experimental ways of playing. All these elements form a huge variety of playing techniques and musical expressions. The huge variety of playing texhniques make an effort to wide range of unusual, strange and colorful timbres and sounds. These elements create expressive melodic section, solid and vibrant rhythmic basement and colorful background. Alto saxophone improvisations are dedicated to fresh and evocative sound – Chris Pitsiokos effectively and masterfully try out numerous different playing techniques, improvises creatively, spontaneously and expressively. The main and the most effective element of his playing style are extremely loud, powerful and turbulent blow outs. Shrieky, very loud, solid and vibrant solos are gently connected together with peaceful and soft melodies, joyful and playful music elements, wild fast, furious and rapid passages and many other elements. Improvisations of the cello are based on sudden turns and stylistic waves – Daniel Levin improvisations are full of different playing techniques. From repetitive and silent pizzicatos to vibrant, colorful and extremely expressive solos – these absolutely different moods, characters and playing manners are combined in one place. Electric guitar improvisations are the source of strange timbres and shocking musical experiments. Brandon Seabrook playing is as much astonishing as the other two players – his improvisations are full of expressive and unpredictable stylistic waves, moods, characters, have a gorgeous melodies and form a solid rhythmic section along with a cello. All three musicians are improvising independently and originally, but all different and astonishing melodies, sounds and rhythms are marveously fused and connected together in one place.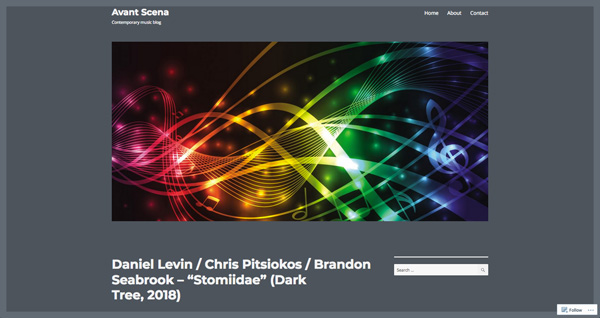 • • • • • • • • • • • • • • • • • • • • • • • • • • • • • • • • • • • • • • • • • • • • • • • • • • • • • • • • • • • • • • • •