• Eyal Hareuveni // Salt Peanuts (July 9, 2019)
French guitarist Julien Desprez and Danish sax player Mette Rasmussen collaborated together on record for the first time on the 3rd version of Mats Gustafsson's Fire! Orchestra that produced «Ritual» (Rune Grammofon, 2016). They immediately found out that they share more than a like-minded sonic vision.
Their conception of their respective instruments – the electric guitar and the alto sax – is similar. Both wish to liberate their instruments from common role and conventional techniques, experimenting and transforming the string and wind instruments to bold sound generators, modifiable at will. Both are also very physical improvisers, using their whole body while playing-dancing with the guitar and sax. Both also enjoy collaborating with other improvisers that are not necessarily come from jazz or free jazz schools. And you can add an eccentric, sometimes even odd sense of humor. Their debut album as The Hatch duo was recorded in Montreuil, France on September 2016, but they continue to perform together these days.
The seven pieces suggest a rich and totally personal sonic vision. «Roadkill Junkies» that opens this journey already cements the atmosphere, urgent and restless. Both Desprez and Rasmussen employ extended breathing techniques and effects to sketch a dense, conversational interplay between alien shamans who like to bump into each other, and, clearly, are junkies of high intensity. «Clay On Your Skin» dives deep into ethereal and almost transparent, abstract soundscape with fragile rhythmic vein. Rasmussen offers on «Offenders» a series of otherworldly, dreamy sounds while Desprez beautifully answers her his own subtle, noisy inventions. «Matters Of The Soul» introduces a melancholic vein, stressed by Rasmussen tense, emotional cries and resonated by Desprez heavy, feedback-laden lines and patiently headed for its catharsis. Rasmussen and Desprez translate Dutch sound poet Jaap Blonk's dadaist lingo to their own weird needs on «Twin Eye». «Blank Sand» diverts the urgent, conversational tone to super fast, sometimes nervous, on other times playful and poetic exchange of cryptic, distorted messages. The last breathy and delicate texture of «Orange Plateau» sounds, again, as an alien, industrial one, but more considerate to the neighboring environment and its planet.
A follow-up is obviously needed. This Hatch leads to many more sonic wonders.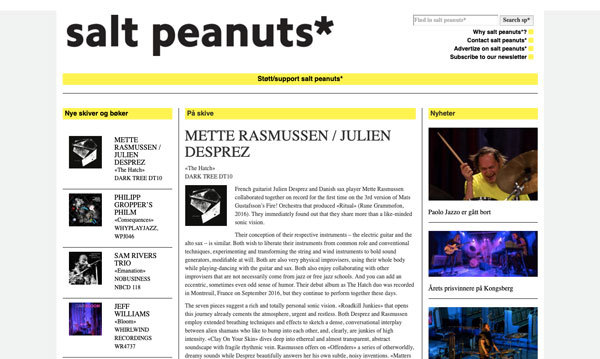 • • • • • • • • • • • • • • • • • • • • • • • • • • • • • • • • • • • • • • • • • • • • • • • • • • • • • • • • • • • • • • • •