• ★★★★1/2 by Eyal Hareuveni for The Free Jazz Collective (June 19, 2016)
The French boutique label Dark Tree has released so far only five album since 2012, including Tournesol (sunflower in French). But each of these five releases have been carefully-picked, demonstration outstanding form of free improvisation (and modern jazz, considering the reissue of Bobby Bradford & John Carter Quintet, No U-Turn – Live in Pasadena, 1975, from 2015).
Tournesol feature's the trio of guitarist Julien Desprez, who joined the recent incarnation of Mats Gustafsson's Fire! Orchestra and is a member of pianist Eve Risser's White Desert Orchestra; master double bass player Benjamin Duboc, who played on previous releases of the label as the En Corps trio, also with Risser, and another trio with sax player Daunik Lazro and percussionist Didier Lasserre; and percussionist Julien Loutelier, who plays in the quartet of sax player Emile Parisien and pop outfits as Cabaret Contemporain. This trio released a self-produced, digital-only, live album in 2014.
The title of this album may be an apt description to the trio aesthetics. In a similar manner to the sunflower, the trio's mode of operation is based on the mutual process of floral photosynthesis. The trio is alert to its surrounding atmosphere, feeding from from it and cultivating a rich and independent universe of its own. The four free-improvised pieces of Tournesol were recorded at the same location of the previous album, Ackenbush, in Paris on January 2015.
All four pieces are intense collective researches of electro-acoustic drones, but each one offers a different, coherent, and organically-developed perspective of drone-based textures. The opening track "Pour Que" sounds more industrial and monochromatic with its buzzing hum, but the following, brief "La", already transforms the drone-based texture into a much richer one. It is a minimalist and mysterious soundscape, suggestive in its cinematic qualities.
The almost 13-minute "Nuit" highlights the extended techniques of all three musicians: the commanding bowing technique of Duboc, the gentle and clever play with guitar feedback by Desprez, and the masterful brushwork on the cymbals and drum skins from Loutelier. These techniques form a continuous series of waves of overtones, almost like in an Indian raga introduction, the alap. And as in a raga the meditative introduction intensifies and forms a much more dense interplay, here sounding more claustrophobic, but maintains the trio's reserved and focused interplay, before it resumes again the meditative-contemplative mode. The final 12-minute "S'ouvre" revolves around assorted rattling sounds of string, cymbals, wood and skins, but, again in a way that suggests clear and tight sonic identity. One that becomes more and more intense, dark-toned, grave without any attempt to offer unnecessary dramatic peaks.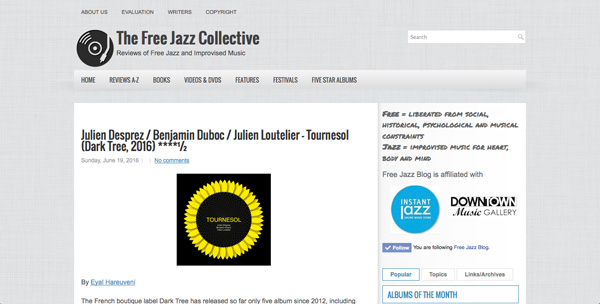 • • • • • • • • • • • • • • • • • • • • • • • • • • • • • • • • • • • • • • • • • • • • • • • • • • • • • • • • • • • • • • • •