• Robert D. Rusch // Cadence (octobre-décembre 2019)
HORACE TAPSCOTT [1934-99] was one of creative forces on the West Coast in much of the second half of the 20th century. In many areas he parallels Ellington, although Tapscott is more overtly Afro-centric and political but in his choral work there are similarities to Ellington's Sacred Music Concerts. Now from Dark Tree Records [#11] comes WHY DON'T YOU LISTEN? The labels name, no doubt is a reference to Tapscott's excellent composition of the same name. As evident with this release, the label has some access to the Tapscott archives. This issue is of a concert from 7/28/98 and probably the last recording from this very gifted artist. This recording brings together the Pan Afrikan Peoples Arkestra and the voices of UGMAA on 5 titles ["Aiee! The Phantom", "Caravan", "Fela Fela","Why Don't You Listen?"and " Little Africa" - 73:14]. The venue at LACMA is casual, talk casual, but attentive. Featured from the band: Phil Ranelin [tbn], Michael Session [ts/as/ss], Donald Dean [drm] and from the singers: Dwight Trible, Amina Amutullah and Carolyn Whitaker.
This CD is so evocative and inspired I'd recommend it to anyone familiar with or new to the wonders of Horace Tapscott. Give yourself 73 minutes of musical pleasure. A 16-page liner puts the session in context.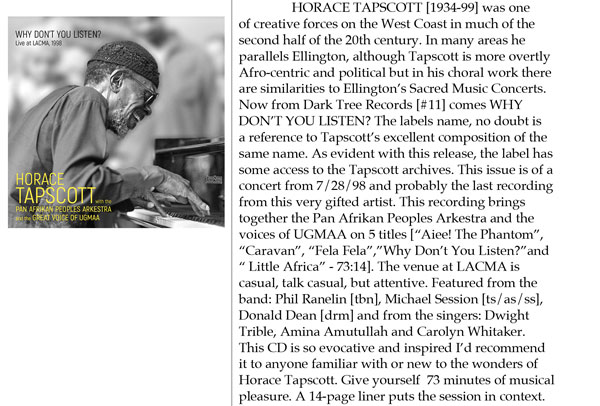 • • • • • • • • • • • • • • • • • • • • • • • • • • • • • • • • • • • • • • • • • • • • • • • • • • • • • • • • • • • • • • • •