• Chronique par Clifford Allen dans The New York City Jazz Record (juillet 2015)
One thing that consistently escapes mention is that the music known as "free jazz" did not arrive that much later than bebop in the arc of modern jazz. It might be thought of better as an alternate, related narrative, akin to hardbop, which emerged out of the music of Charlie Parker, Thelonious Monk, Bud Powell and Dizzy Gillespie. The recently departed Ornette Coleman was reportedly working on his compositional and improvisational ideas as early as 1952; after all he was only a few years younger than many beboppers and, tracing musical lineage from Fort Worth, Texas, to California, encountered many of the same struggles. Cornet player Bobby Bradford (who turns 81 this month) was raised in Dallas and first met Coleman at a wedding near Austin, but they didn't start playing together until 1953 in Los Angeles and it wasn't until 1971 that their collaborations were recorded, on Coleman's Science Fiction (Columbia). Bradford's fat, brittle approach and spindly phrasing found perhaps a better complement in reed player John Carter (1928-91), another Fort Worth native. They began a musical relationship in 1966, which, with some gaps, lasted until Carter's death.
No U-Turn was recorded at CalTech in Pasadena in 1975 with drummer William Jeffrey and bassists Roberto Miguel Miranda and Stanley Carter (the latter John's son). Of the five compositions, three are from Bradford's book and two from Carter's. Carter is heard only on soprano and clarinet, presaging slightly his emerging focus as a clarinet specialist. The recording is a bit low-fidelity, thinning out the potentially resonant harmonic stew of two bassists and leaving the drums a little top-heavy. Nevertheless, the rhythm section weaves a compelling tangle underneath the spiraling keen of Carter's soprano on the opening "Love's Dream", more sinewy and didactic in its nodal exploration than Coltrane's. The following "She" finds Bradford grappling with short, pensive bursts, which, stitched together, present a brushy poem of heaving, incisive cries and burnished colors against the tug of pizzicato basses and Carter's pinched commentary. While earlier iterations of the Carter-Bradford group focused on supple interplay and a granular approach to swaggering, Texas-schooled "up through the ground and out through the bell" motion (to quote Prince Lasha), this particular unit makes effective use of energy — in no small part due to the rhythm section's oblique ferocity.
Bradford's international partnership with Norwegian clarinetist and alto saxophonist Frode Gjerstad goes back to 1987, when both worked as part of English drummer John Stevens' group Detail. Bradford was himself no stranger to the European free improvisation world, having worked with Stevens as far back as 1971. Since Stevens' passing, Bradford and Gjerstad have operated in small groups and orchestral combinations, often with Norwegian bassist Ingebrigt Håker Flaten and drummer Paal Nilssen-Love. With Chicagoan Frank Rosaly subbing for Nilssen-Love, the Bradford-Gjerstad Quartet recently cut their third disc, Silver Cornet, live at Baltimore's Windup Space in 2014. Gjerstad's mouthy flywheels are a hot and often harried foil for Bradford's furrowed, somewhat laconic and winnowing slices; unlike No U-Turn, the three compositions on Silver Cornet are entirely improvised. Håker Flaten and Rosaly have a preexisting history in the former's Austin- and Chicago-focused bands, as well as in Scorch Trio and saxophonist Dave Rempis' Percussion Quartet. Rosaly's touch is often light and makes use of a variety of "selected and unselected" cymbals and bells (to use Paul Lovens' term) in a continual accented patter while Håker Flaten's massive pizzicato and brutish arco are applied with surprising deftness throughout. The music is often sparse, with its balance alternately tipping toward grimly blended microtones or a more recognizable palette of bluesy daubs, yet all of it is expertly recorded, capturing three generations of improvisers in their finest regalia.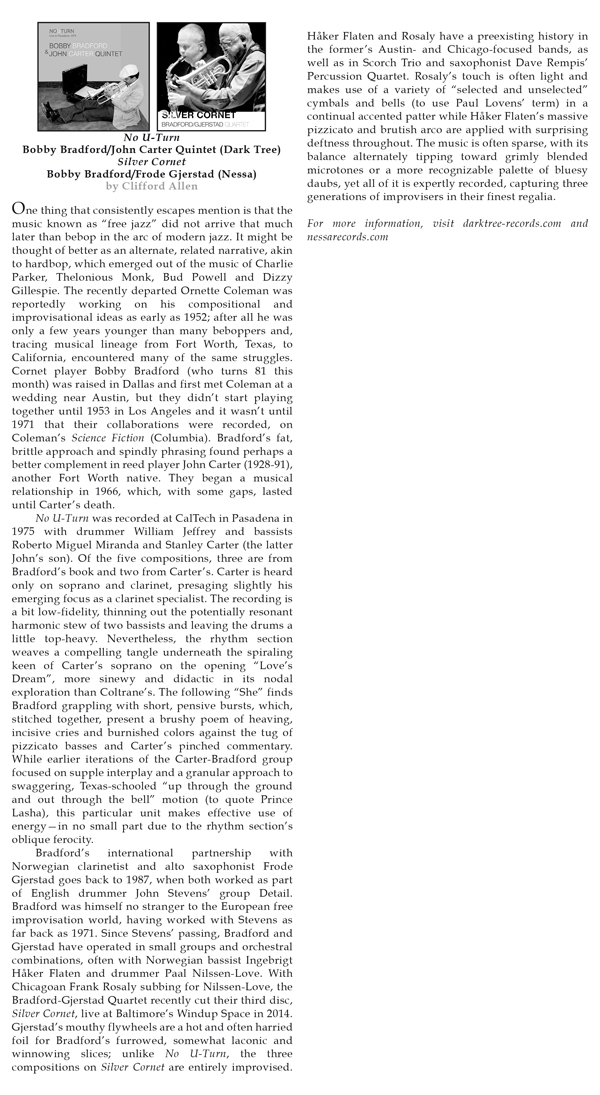 • • • • • • • • • • • • • • • • • • • • • • • • • • • • • • • • • • • • • • • • • • • • • • • • • • • • • • • • • • • • • • • •