• Troy Collins // Point of Departure (septembre 2018)
Chris Pitsiokos is representative of a new generation of musicians currently working in the experimental New York jazz scene. Following in the footsteps of John Zorn, he has been gradually expanding the expressive possibilities of the alto saxophone, under the influence of Ornette Coleman's harmolodics, No Wave's confrontational aesthetic, and Stockhausen's timbral explorations. Pitsiokos' Unit features a rotating cast of characters, including the leader's regular companion, Tim Dahl on electric bass; alternate bassist Henry Fraser; Connor Baker or Jason Nazary on drums; and Sam Lisabeth on electric guitar. On Silver Bullet In The Autumn Of Your Years, the second record with his flagship Unit, the personnel changes on each cut, yet characteristic of its communal nature, the tonal shifts are seamless, making the most of each member's visceral contributions.This sophomore session reveals incremental growth over last year's rousing debut, Before the Heat Death (Clean Feed). The new date boasts numerous cuts that favor longer running times, allowing for more expansive improvisations and invigorating exchanges. "Orelius" is one of the most freewheeling, with frantic call-and-response figures and dynamic shifts in mood. The shadow of Prime Time hangs heavy over the fractured funk of cuts like "Once Upon a Time Called Now," "Positional Play," and especially "A Knob On The Face Of A Man," which unabashedly recalls the sing-song phrasing of Ornette's "Dancing In Your Head."
Numbers like "The Tower" and the epic closer "Anthropod" explore broader stylistic territory, gaining momentum as they ascend from aleatoric impressionism to full-blown expressionism – evoking not only the hushed subtlety of lower case improv, but the dissonant angularity of early No Wave artists like The Contortions, The Golden Palominos, and Material. Pitsiokos and crew play with wild abandon throughout, transcending imitation with pluck and determination. Using Zorn's saxophone language as a foundation, Pitsiokos employs all manner of extended techniques and embouchure torture to craft his own dialect, although he has yet to find a truly distinctive voice. Pitsokos is an artist on the rise; expect great things from him in the future.
Stomiidae is named after a family of predatory deep-sea fish, with track titles derived from its different breeds, such as "Eustomias Trewavasae" and "Neonesthes Capensis." For this collaborative effort, Pitsiokos is joined by cellist Daniel Levin and guitarist Brandon Seabrook in a freewheeling trio session of spontaneous collective improvisations that attempt to emulate the primal existence of these subterranean creatures.
To portray these exotic life-forms, the group avoids standard tonalities, using extended techniques to create a wide range of dissonant textures and mottled hues. Episodes of torrid freedom are balanced by sections of eerie calm, rising in frenzy before drifting down to still silence. Unfettered exchanges yield spacey pointillist interludes pregnant with anticipation that quickly shift to reveal cacophonous bursts of activity.
Eschewing the conventional, Pitsiokos unleashes frantic runs, circular motifs, and bristling interjections with altissimo squeals, multiphonic blasts, and growling vocalizations. Seabrook responds in kind, with short, sharp bursts of distortion and a dizzying array of fingerpicking. Levin similarly engages in aberrant bowing and plucking, eliciting piercing harmonics and percussive pizzicato. Though somewhat repetitive, there are enough captivating moments on Stomiidae to immerse enthusiasts of creative new music in the experimental waters that the trio navigates.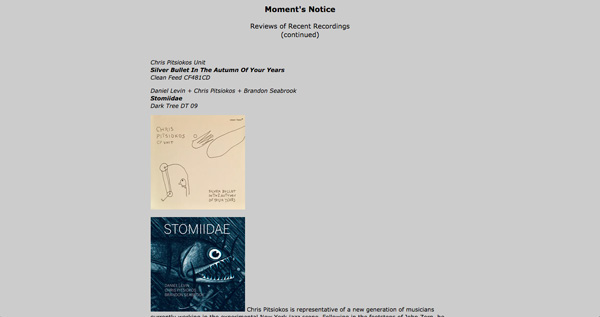 • • • • • • • • • • • • • • • • • • • • • • • • • • • • • • • • • • • • • • • • • • • • • • • • • • • • • • • • • • • • • • • •