• Chronique par Filipe Freitas sur Jazz Trail (18 avril 2018)
Adventurous cellist Daniel Levin has been taken creativity further with bold trio projects totally lean on free improvisation. After collaborating with saxophonist Tony Malaby and violist Mat Maneri on New Artifacts (Clean Feed, 2017), he now presents us a new project co-lead by fiery altoist Chris Pitsiokos and the wildly virtuosic guitarist Brandon Seabrook.
The album title, Stomiidae, refers to a class of particularly small deep-sea ray-finned fish, and the seven tracks were named according to some of its representative species.
"Photonectes Gracilis" opens with Pitsiokos' incessantly frantic runs, which foment prompt responses by his peers. The result is vociferous, dispersed, and convoluted, only occasionally marching toward convergence and harmony. These dynamics, bracing a collective vision, end up in another noisy stir with saxophone growls and whistles, violent guitar discharges, and corrosive cello rips.
The art of noise is not so simple as it seems, and on "Eustomias Trewavasae" the threesome structures layers of drones with shifting moods and several intensities and densities. Levin uses the cello as a percussive element through bow tapping, leading the trio into a cacophony conversation that lies between lucidity and insanity.
"Neonesthes Capensis" feels like a neo-folk extravaganza that cumulates endless circular movements, rapid-fire sprints, and provocative interjections. Its freedom and interplay make us feel alive.
Both "Chauliodus Danae" and "Photostomias Atrox" last around two minutes, embracing distinct atmospheres marked by different granularities in its microtonal textures. The former stands out through the magnetic tonalities created by the bowed cello.
We are able to picture dark and gelid aquatic habitats from the fully-tilt passages that describe "Opostomias Micripnus", a piece whose rhythmic control combusts with raw intensity, enhancing the frisson of discovery. High-energy aggregations are spontaneously lined up through several individual actions. While the saxophonist attacks with both piercing and popping sounds along with mercurial patterned sweeps, the guitarist inflicts short distorted blows and odd fingerpicking with strong accentuation toward the epicenter of the storm, with Levin injecting ominous sawing, panting low sounds.
Even if the sonic entropies are subjected to repetition, there are captivating abstract moments on Stomiidae that will make listeners of modern creative and new music styles fully immersed in the experimental, often-opaque waters in which the trio navigates.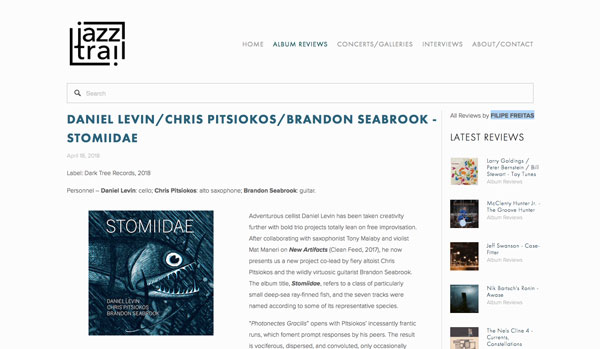 • • • • • • • • • • • • • • • • • • • • • • • • • • • • • • • • • • • • • • • • • • • • • • • • • • • • • • • • • • • • • • • •