• Chronique par Stuart Broomer dans Point of Departure (juin 2016)
"Tournesol" is French for "sunflower," a potent symbol of light, not something you might immediately associate with the music produced by the band it names, the trio of electric guitarist Julien Desprez, bassist Benjamin Duboc and percussionist Julien Loutelier. It's dense, darkly resonant work in which the sounds usually associated with the instrumentation rarely occur. That deep resonance is the core, as if the group's essential instruments were enormous metal bowls and stone cylinders and their inner surfaces were being rubbed to create ringing tones in the lowest register. Circularity, scale and subterranean energy may be the strongest associations with the name, suggestive of a vast underground factory whose purpose seems benign, like the perpetual grinding of a great stone prayer wheel somewhere within the Himalayas.
The CD is brief, some 35 minutes long, but it couldn't contain more mysterious depth if it were twice that length. Bowed percussion and bass may expand controlled guitar feedback or vice versa, and I have rarely heard electronic and acoustic sound so perfectly integrated. Occasionally a naked snare drum or pizzicato bass breaks in, but it doesn't stay long. There are four tracks, their titles a divided phrase: "pour que/ la/ nuit/ s'ouvre," that is, "for/ the/ night/ opens." I have listened to it repeatedly and believe now that everything has become clear; however, the point of view, the perspective that might organize it and encapsulate it, has disappeared into the music.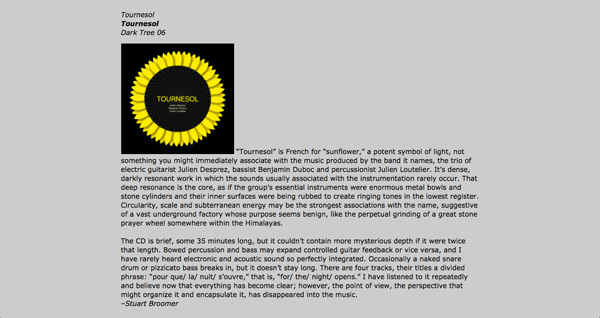 • • • • • • • • • • • • • • • • • • • • • • • • • • • • • • • • • • • • • • • • • • • • • • • • • • • • • • • • • • • • • • • •