• Label Spotlight by Stuart Broomer in The New York City Jazz Record (March 2018)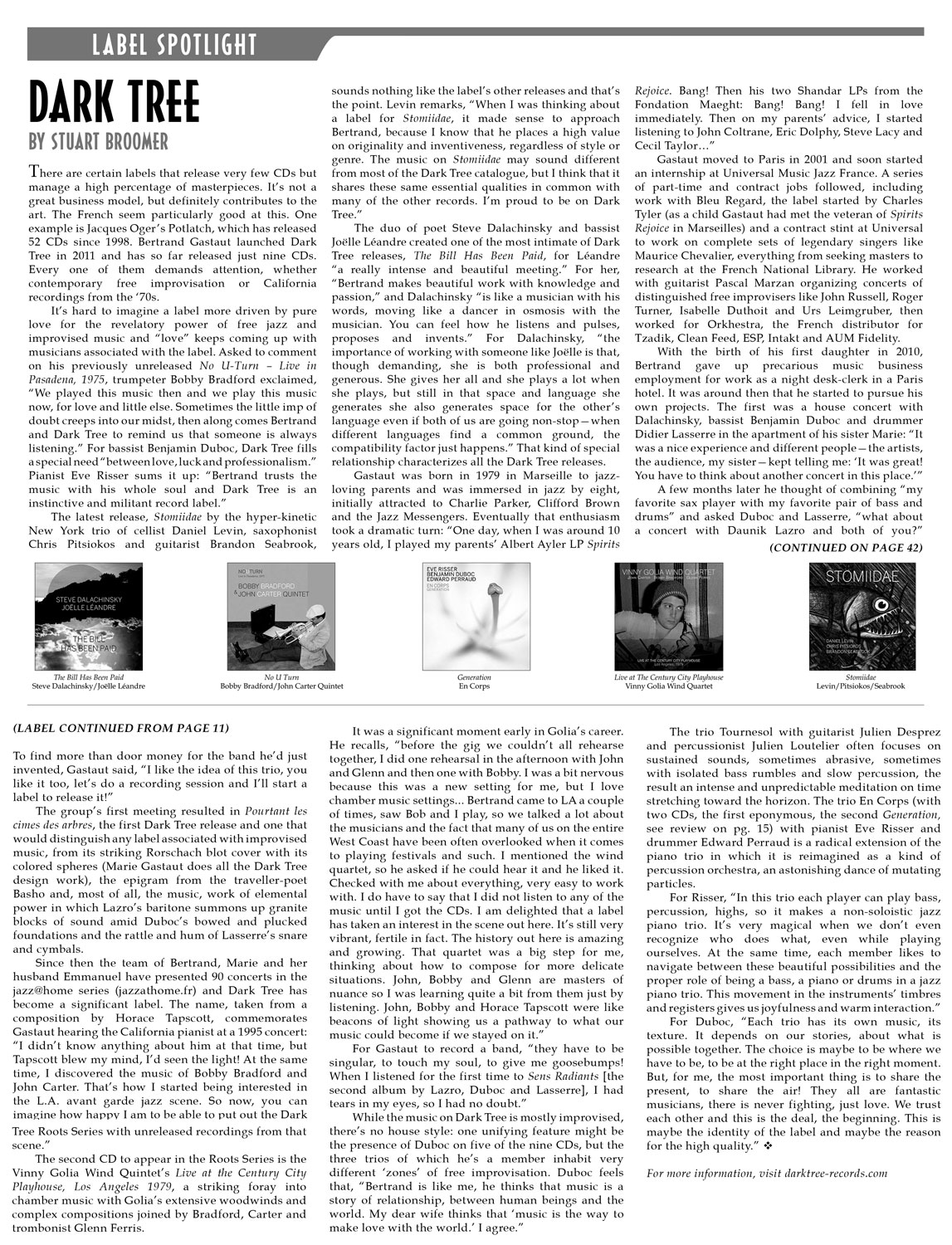 There are certain labels that release very few CDs but manage a high percentage of masterpieces. It's not a great business model, but definitely contributes to the art. The French seem particularly good at this. One example is Jacques Oger's Potlatch, which has released 52 CDs since 1998. Bertrand Gastaut launched Dark Tree in 2011 and has so far released just nine CDs. Every one of them demands attention, whether contemporary free improvisation or California recordings from the '70s.
It's hard to imagine a label more driven by pure love for the revelatory power of free jazz and improvised music and "love" keeps coming up with musicians associated with the label. Asked to comment on his previously unreleased No U-Turn – Live in Pasadena, 1975, trumpeter Bobby Bradford exclaimed, "We played this music then and we play this music now, for love and little else. Sometimes the little imp of doubt creeps into our midst, then along comes Bertrand and Dark Tree to remind us that someone is always listening." For bassist Benjamin Duboc, Dark Tree fills a special need "between love, luck and professionalism." Pianist Eve Risser sums it up: "Bertrand trusts the music with his whole soul and Dark Tree is an instinctive and militant record label."
The latest release, Stomiidae by the hyper-kinetic New York trio of cellist Daniel Levin, saxophonist Chris Pitsiokos and guitarist Brandon Seabrook, sounds nothing like the label's other releases and that's the point. Levin remarks, "When I was thinking about a label for Stomiidae, it made sense to approach Bertrand, because I know that he places a high value on originality and inventiveness, regardless of style or genre. The music on Stomiidae may sound different from most of the Dark Tree catalogue, but I think that it shares these same essential qualities in common with many of the other records. I'm proud to be on Dark Tree."
The duo of poet Steve Dalachinsky and bassist Joëlle Léandre created one of the most intimate of Dark Tree releases, The Bill Has Been Paid, for Léandre "a really intense and beautiful meeting." For her, "Bertrand makes beautiful work with knowledge and passion," and Dalachinsky "is like a musician with his words, moving like a dancer in osmosis with the musician. You can feel how he listens and pulses, proposes and invents." For Dalachinsky, "the importance of working with someone like Joëlle is that, though demanding, she is both professional and generous. She gives her all and she plays a lot when she plays, but still in that space and language she generates she also generates space for the other's language even if both of us are going non-stop—when different languages find a common ground, the compatibility factor just happens." That kind of special relationship characterizes all the Dark Tree releases.
Gastaut was born in 1979 in Marseille to jazz-loving parents and was immersed in jazz by eight, initially attracted to Charlie Parker, Clifford Brown and the Jazz Messengers. Eventually that enthusiasm took a dramatic turn: "One day, when I was around 10 years old, I played my parents' Albert Ayler LP Spirits Rejoice. Bang! Then his two Shandar LPs from the Fondation Maeght: Bang! Bang! I fell in love immediately. Then on my parents' advice, I started listening to John Coltrane, Eric Dolphy, Steve Lacy and Cecil Taylor…"
Gastaut moved to Paris in 2001 and soon started an internship at Universal Music Jazz France. A series of part-time and contract jobs followed, including work with Bleu Regard, the label started by Charles Tyler (as a child Gastaut had met the veteran of Spirits Rejoice in Marseilles) and a contract stint at Universal to work on complete sets of legendary singers like Maurice Chevalier, everything from seeking masters to research at the French National Library. He worked with guitarist Pascal Marzan organizing concerts of distinguished free improvisers like John Russell, Roger Turner, Isabelle Duthoit and Urs Leimgruber, then worked for Orkhestra, the French distributor for Tzadik, Clean Feed, ESP, Intakt and AUM Fidelity.
With the birth of his first daughter in 2010, Bertrand gave up precarious music business employment for work as a night desk-clerk in a Paris hotel. It was around then that he started to pursue his own projects. The first was a house concert with Dalachinsky, bassist Benjamin Duboc and drummer Didier Lasserre in the apartment of his sister Marie: "It was a nice experience and different people—the artists, the audience, my sister—kept telling me: 'It was great! You have to think about another concert in this place.'"
A few months later he thought of combining "my favorite sax player with my favorite pair of bass and drums" and asked Duboc and Lasserre, "what about a concert with Daunik Lazro and both of you?" To find more than door money for the band he'd just invented, Gastaut said, "I like the idea of this trio, you like it too, let's do a recording session and I'll start a label to release it!"
The group's first meeting resulted in Pourtant les cimes des arbres, the first Dark Tree release and one that would distinguish any label associated with improvised music, from its striking Rorschach blot cover with its colored spheres (Marie Gastaut does all the Dark Tree design work), the epigram from the traveller-poet Basho and, most of all, the music, work of elemental power in which Lazro's baritone summons up granite blocks of sound amid Duboc's bowed and plucked foundations and the rattle and hum of Lasserre's snare and cymbals.
Since then the team of Bertrand, Marie and her husband Emmanuel have presented 90 concerts in the jazz@home series (jazzathome.fr) and Dark Tree has become a significant label. The name, taken from a composition by Horace Tapscott, commemorates Gastaut hearing the California pianist at a 1995 concert: "I didn't know anything about him at that time, but Tapscott blew my mind, I'd seen the light! At the same time, I discovered the music of Bobby Bradford and John Carter. That's how I started being interested in the L.A. avant garde jazz scene. So now, you can imagine how happy I am to be able to put out the Dark Tree Roots Series with unreleased recordings from that scene."
The second CD to appear in the Roots Series is the Vinny Golia Wind Quartet's Live at the Century City Playhouse, Los Angeles 1979, a striking foray into chamber music with Golia's extensive woodwinds and complex compositions joined by Bradford, Carter and trombonist Glenn Ferris.
It was a significant moment early in Golia's career. He recalls, "before the gig we couldn't all rehearse together, I did one rehearsal in the afternoon with John and Glenn and then one with Bobby. I was a bit nervous because this was a new setting for me, but I love chamber music settings… Bertrand came to LA a couple of times, saw Bob and I play, so we talked a lot about the musicians and the fact that many of us on the entire West Coast have been often overlooked when it comes to playing festivals and such. I mentioned the wind quartet, so he asked if he could hear it and he liked it. Checked with me about everything, very easy to work with. I do have to say that I did not listen to any of the music until I got the CDs. I am delighted that a label has taken an interest in the scene out here. It's still very vibrant, fertile in fact. The history out here is amazing and growing. That quartet was a big step for me, thinking about how to compose for more delicate situations. John, Bobby and Glenn are masters of nuance so I was learning quite a bit from them just by listening. John, Bobby and Horace Tapscott were like beacons of light showing us a pathway to what our music could become if we stayed on it."
For Gastaut to record a band, "they have to be singular, to touch my soul, to give me goosebumps! When I listened for the first time to Sens Radiants [the second album by Lazro, Duboc and Lasserre], I had tears in my eyes, so I had no doubt."
While the music on Dark Tree is mostly improvised, there's no house style: one unifying feature might be the presence of Duboc on five of the nine CDs, but the three trios of which he's a member inhabit very different 'zones' of free improvisation. Duboc feels that, "Bertrand is like me, he thinks that music is a story of relationship, between human beings and the world. My dear wife thinks that 'music is the way to make love with the world.' I agree."
The trio Tournesol with guitarist Julien Desprez and percussionist Julien Loutelier often focuses on sustained sounds, sometimes abrasive, sometimes with isolated bass rumbles and slow percussion, the result an intense and unpredictable meditation on time stretching toward the horizon. The trio En Corps (with two CDs, the first eponymous, the second Generation, see review on pg. 15) with pianist Eve Risser and drummer Edward Perraud is a radical extension of the piano trio in which it is reimagined as a kind of percussion orchestra, an astonishing dance of mutating particles.
For Risser, "In this trio each player can play bass, percussion, highs, so it makes a non-soloistic jazz piano trio. It's very magical when we don't even recognize who does what, even while playing ourselves. At the same time, each member likes to navigate between these beautiful possibilities and the proper role of being a bass, a piano or drums in a jazz piano trio. This movement in the instruments' timbres and registers gives us joyfulness and warm interaction."
For Duboc, "Each trio has its own music, its texture. It depends on our stories, about what is possible together. The choice is maybe to be where we have to be, to be at the right place in the right moment. But, for me, the most important thing is to share the present, to share the air! They all are fantastic musicians, there is never fighting, just love. We trust each other and this is the deal, the beginning. This is maybe the identity of the label and maybe the reason for the high quality."