• ★★★★★ All About Jazz by John Sharpe (August 1, 2017)
The eponymous debut En Corps (Dark Tree, 2012) by the French triumvirate of pianist Eve Risser, bassist Benjamin Duboc and drummer Edward Perraud made several year-end lists, and Génération belongs in the same category. Les Deux Versants Se Regardent (Clean Feed, 2016) by Risser's White Desert Orchestra revealed her as a composer of note, as well as an innovative pianist, who resides in a line of explorers who have furthered John Cage's preparations for piano, such as Benoit Delbecq and Sophie Agnel. In addition to leading his own unit, Synaesthetic Trip, Perraud like Duboc remains a mainstay of the French improvising scene.
Risser may be one of the most percussive of pianists, operating habitually with a palette which evokes variously a gamelan, marimba, xylophone, and music box. Perraud convinces as an inventive purveyor of timbral variety, his efforts replete with well-reasoned embellishments and tight miniature figures which emerge unexpectedly and disappear again just as quickly. But it's Duboc who keeps the show on the road, his resonant plucks, strummed flurries and humming bow work ensures that there's movement when needed and imaginative stasis when not.
As a group their collective ethos places them firmly in a lineage which stretches from the trios of Bill Evans, Paul Bley and Howard Riley, through to the Portuguese RED Trio, Australia's The Necks, and the NYC-based Dawn of Midi. The three like-minded principals spontaneously develop two extended cuts which make a virtue of careful judgment, restraint and sensitivity, while at the same time juddering on the launch pad, but never shooting for the stars. Why this stands out is the concentration in the moment which meticulously positions each sound both for its intrinsic value but also for its relation to others. While not quite consonant, the dissonances feel just right and the end result is mesmerizing.
"Des Corps" begins with a minimalist sonic painting of prepared piano, cymbal scrapes and arco murmurs which congeals into a pointillist portrait of great beauty. Exquisite and slow moving, bursts of unmodified piano suddenly sharpen into focus from modulated sonorities. Momentum gradually builds from the weight of individual components, with fleetingly reiterated patterns giving the sense an internal logic. At one point Duboc lends a Charlie Haden-esque gravitas and curdled lyricism, before becoming subsumed back into the flow. "Des Âmes" possesses more of an ominous undertow amid the thunder, as explosive drum outbursts, then Risser's attacks hint at pent up energy before a prancing climactic flourish.
Many attempt to inhabit such terrain, but few can sustain it as well as these three.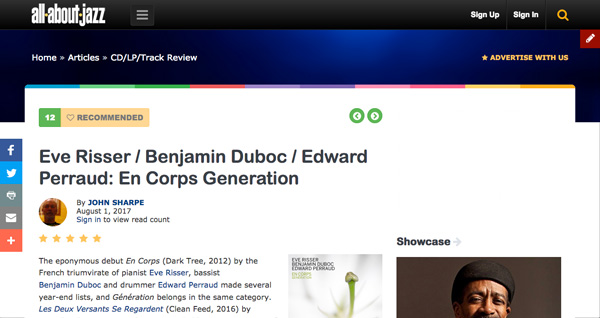 • • • • • • • • • • • • • • • • • • • • • • • • • • • • • • • • • • • • • • • • • • • • • • • • • • • • • • • • • • • • • • • •