• Review by Eyal Hareuveni on All About Jazz (july 2, 2013)
The verbal-musical match between American beat poet Steve Dalachinsky, who describes himself as one that was born "right after the last big war and managed to survive lots of little wars," and French double master Joëlle Léandre is unique and untimely. Dalachinsky's poetry focuses on his musical experiences and meditations on musicians—as a spectator or collaborator, or as an active player in a musical scene (for example with Matthew Shipp or Charles Gayle)—ones that transform him into a more conscious, compassionate person.
Léandre has written poetry and collaborated with poets, amongst many other interdisciplinary artists, since the beginning of her career, and her imaginative free improvisations on the bass are often characterized as poetic. Both Léandre and Dalachinsky are gifted performers with a healthy sense of theatrics in performance, spiced with pathos, irony and passion.
This live recording, from May, 2012 in Paris, features three long poems by Dalachinsky with short solo interludes from Léandre. The first poem is a long meditation dedicated to the memory of jazz vocal iconoclast Jeanne Lee, beginning with the line: "She sang that / the color of LIFE is BELIEF…." Dalachinsky keeps elaborating on his words about Lee, attempting to interpret these words according to his existential insights and constant doubts, concluding that the "color of life" is part "freedom" and part being "dumb." Léandre adds intensity to the expressive verbal content, accentuating and mirroring Dalachinsky's passionate verbal phrasing perfectly with her highly creative playing. The poem is followed by Léandre's wild, free-form solo improvisation, the bassist adding some gibberish vocals.
The second long poem, "Son Of The Sun (After Magic)," is narrated in a more contemplative tone. Both Dalachinsky and Léandre express their minimal abstractions on the poetry, dedicated to a close, lost soul, as …"we keep on with life / as our mistress / & the unwelcome hand of pain…."
The last, shorter poem, "Sweet & Low (Word Of Light and Love / The Bill Has Been Paid)," is framed with Léandre's short and reserved solo interludes. The telepathic understanding between Dalachinsky and Léandre is best captured here, on this wise and intense meditation on life. Léandre injects her insightful, playful wisdom to Dalachinsky's poetic insights: "the time is not our own / the forest from the trees / sugar is no substitute for wisdom / the low fat lives we live are purely fiction…."
A magnificent match of great poetry and imaginative free improvisation.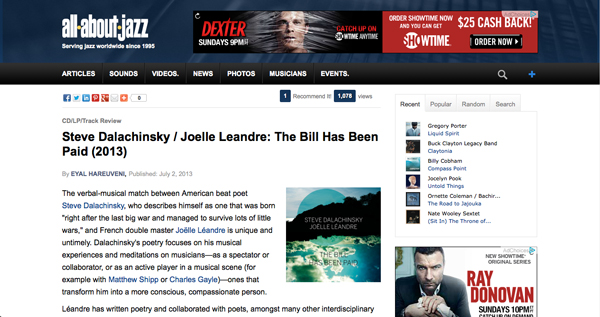 • • • • • • • • • • • • • • • • • • • • • • • • • • • • • • • • • • • • • • • • • • • • • • • • • • • • • • • • • • • • • • • •