• Review by John Sharpe in The New York City Jazz Record (March 2013)
Right from the time when most women in the entertainment business were either singers or dancers, the piano supplied one of the few acceptable entrees for female instrumentalists to the world of jazz. Even though such prejudices have been left way behind, the keyboard remains where women are most strongly represented on the bandstand.
Berlin-based Japanese pianist Aki Takase creates a beguiling mix of the old and the modern day, with her original compositions rubbing shoulders with tunes by Fats Waller, Jelly Roll Morton and WC Handy. In many ways New Blues is a follow up to 2003's Plays Fats Waller (Enja), with almost the same lineup, including the spirited yet knowing vocals by maverick guitarist/banjo player Eugene Chadbourne. Some of the pianist's numbers sit well alongside the standards, such as the jaunty "Seven Eleven", featuring quicksilver interplay between the bass clarinet of Rudi Mahall and the boisterous trombone of Nils Wogram, while others boast a barreling vivacity and angular unisons, as well as bursts of piano dissonance from the leader. There is a madcap edge to the polyphony, which bursts out of the confines of "The Joint Is Jumpin'", "Dr. Jazz" and "Dead Man Blues", even though the last comes complete with a funeral march introduction.
Very different but equally enthralling, En Corps features the French triumvirate of pianist Eve Risser working with the seasoned bass and drums of Benjamin Duboc and Edward Perraud. Remarkably selfless, Risser tempers her keyboard with all manner of preparations, including wooden and metal blocks, accentuating the percussive nature of her instrument. Over two lengthy excursions the trio indulge in what might be termed tantric jazz: mysterious, veiled, slow burning and perfectly judged. Indeterminate sounds flicker like stars in the cosmic void, as brief shards of rhythmic patter form part of a larger arc that disjointedly moves to a stunning crescendo, without a hint of tune or steady tempo, before Risser's distant hammered tremolo sees the energy slowly dissipate.
On Games and Improvisations, Swiss pianist Katharina Weber interprets 11 brief (mainly less than a minute) piano works by contemporary Hungarian composer György Kurtág. She follows each one, in the company of compatriot percussionist Balts Nill and English bass virtuoso Barry Guy, with a reaction to the initial work. Weber, who studied with Kurtág, is a precise and self-contained practitioner, balanced by Nill who is as much sound sculptor as percussionist while Guy's astonishing range of textures act as the glue between them. At times the links between inspiration and resultant extemporization are clear, as with "Palm Stroke", where the ensuing improvisation is correspondingly thorny and energetic, while elsewhere the connection becomes more oblique, as with "Hommage à Szervánszky: Silence", melodic but interspersed with quiet, which draws an initially lowkey, lower case response before the three voices variously overlap and mesh. The set can be enjoyed on several different levels: Kurtág's pieces, spare to the point of haiku, can be savored in their own right; or inviting investigation of the relationships to the corresponding exploration or as an extended suite.
German pianist Johanna Borchert extracts the essence of the orchestra from her piano, harpsichord and autoharp over the course of 13 short tracks on Orchestre Idéal. Like Risser, she also makes extensive use of preparations but to very different ends. At times, such as on the tolling "Obertöne", she evokes minimalism, provoking contemporary classical comparisons. Elsewhere she summons Erik Satie, especially on the dreamy "Lillies". The latter is one of four pieces improvised on her own compositions, more lyrical than the unpremeditated cuts. In her explorations of texture, layers and moods, several events often happen simultaneously, such as the pointillist plucked notes and dramatic piano sweep of "Königlicher Schlafgang" or the ghostly ape-like hoots, percussive taps and isolated keystrokes that comprise "Gemolkene Stäbchen". Many of the pieces are left hanging and this, combined with the general austerity of conception, means that a similarly unresolved air hangs over the album as a whole.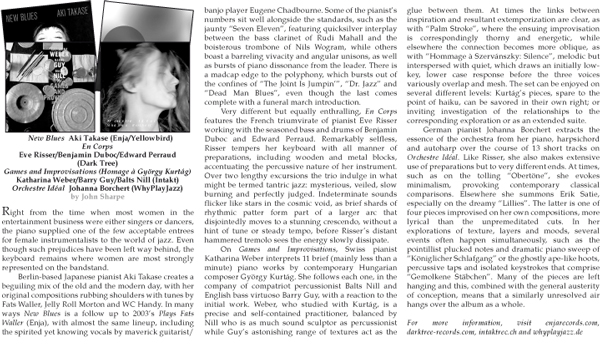 • • • • • • • • • • • • • • • • • • • • • • • • • • • • • • • • • • • • • • • • • • • • • • • • • • • • • • • • • • • • • • • •