• Review by Eyal Hareuveni on All About Jazz (October 1, 2012)
This magnificent French trio is comprised of three promising and yet underrated young musicians— experimental pianist Eve Risser, an explorer of paradoxical piano sounds and a member of the French-Swedish-German musicians collective Umlaut, the band The New Sounds and the duo Donkey Monkey; likeminded prolific bassist Benjamin Duboc, whose activity encompasses free improvisation, free jazz and music for dance and films; prolific drummer Edward Perraud, leader of a few outfits, member of Das Kapital and collaborator with free improvisers such as guitarist Fred Frith and vocal artist Elise Caron.
On this debut trio recording, all three manage to marry their experimental sonic researches with a highly communicative and inventive improvised attitude. The two long improvisations move vertically on one hand—featuring delicate and ethereal interplay—and, on the other, develop horizontally, where all three explore clusters of unorthodox sounds without attaching themselves to any one sound, fixed rhythm, role or pattern. Such focused and patient conviction, sensitive flexibility, balance, and profound and highly personal musical language create the essence of the first improvisation, the 35-minute "Trans." It is transformed, patiently and organically, from spare and light articulations into intense, physical sonic crescendos, without ever losing its cohesive power.
The second, 16-minute "Chant d'ente" is less powerful than the first but still present the same determined and experimental approach. It is built on sharper exchange of sonic gestures that keep expanding until they form a broad canvas of sounds and colors. And just as these beautiful, arresting sounds reach their intense peak, they suddenly end.
One of the best releases of 2012 from a trio of incredible musicians who produce fantastic and captivating music.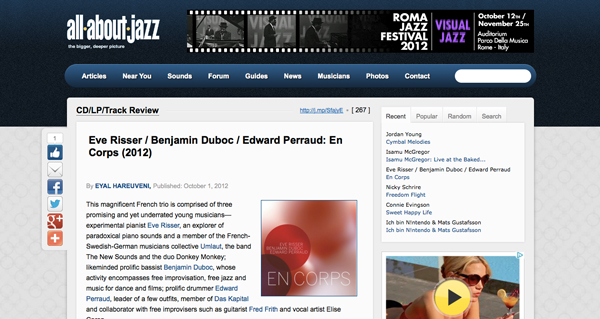 • • • • • • • • • • • • • • • • • • • • • • • • • • • • • • • • • • • • • • • • • • • • • • • • • • • • • • • • • • • • • • • •