• Chronique par Stuart Broomer sur Point of Departure (décembre 2011)
The French saxophonist Daunik Lazro is one of his instrument's great explorers, but in North America he is a significantly under-known musician. First recording with bassist Saheb Sarbib in the 1970s, Lazro has roots deep in free jazz, though his associations in succeeding decades have generally been further into the terrain of free improvisation. He has had particularly fruitful, long-running musical associations with Jőelle Léandre and Carlos Zingaro, and in 1995 toured and recorded in a trio with Joe McPhee and Evan Parker, company to which he is perfectly suited. These two recent CDs, with Lazro in solo and trio contexts, present him as a dedicated baritone saxophonist, mining the instrument's resonance with a rare profundity.
One is free to associate Lazro with his roots or his explorations. He begins the solo CD Some Other Zongs with the only composition to be found on either of these recordings, Joe McPhee's "Le Vieux Carré." It's a deep blues that reaches well past McPhee and the usual free jazz sources to go directly to Harry Carney (that primordial circular breather whose 100th anniversary on April 1, 2010, occurred just a few days prior to the recording), the grain of Lazro's sound initially almost as warm and pure as Carney's own before Lazro gradually attenuates it to include some harsher timbres and some multiphonics as well. The remarkable "Caverne de Platon" can invoke a very different baritone saxophonist, Werner Ludi recording himself inside the Lucendro dam. Lazro is a genius of sonics, attenuating high and low multiphonics as layers of pitch appear and disappear in his extended notes (as a sonic baritone saxophonist, Mats Gustafsson may be his closest kin for the sheer life in the airy spray of harmonics). Each of the succeeding "Zongs" develops its own character: "Zong at Saint-Merry 3" might suggest a pod of whales; the broad-ranging "Zong 4" hints at a baritone shakuhachi (ringing in the Grand Canyon).
Listening to Lazro play in a group can suggest his role is akin to architecture or land-form. Huge notes appear and reside in space, as timeless and immovable as boulders, sonic events which other sounds wash against and across. His strengths in group play are heard to fine effect on Pourtant les cimes des arbres, the distinguished debut release for French label Dark Tree. The trio includes a regular Lazro collaborator, drummer Didier Lasserre, who in turn has often formed a rhythm section with the bassist, Benjamin Duboc. The titles of the four pieces together form a translation of a haiku by Bashō: Un lune vive, pourtant, les cimes des arbres, retiennent la pluie. Like Bashō's works there are both struggles toward authentic meaning and moments of sudden illumination. Despite a certain appearance of convention, the trio often focuses on timbre. Drones and percussive elements arise from all three musicians in a way that gives the group a special unity and a kind of orchestral breadth of sound. The long opener, "Une lune vive," is a work of brilliant three-way improvisation in which the trio's evolving shapes seem to issue from a single collective mind: the piece begins in such quiet that the sounds of brushes on snare, bow on strings and air through baritone virtually merge. Deliberate pauses arise naturally as the piece ranges through high bowed harmonics on the bass, bass rumblings from Lazro's baritone, and scraped and bowed cymbals (Lasserre's kit consists of just snare drum and cymbals). By contrast, the relatively brief "Pourtant" is a tumult of energy, with the sudden abrasive squeals, mouthpiece plosives and gritty multiphonics of the baritone pressed through discordant bowed bass and rhythmically scraped cymbals. The concluding "Retiennent la pluie" virtually reverses the journey of Zongs from linear convention to sonic abstraction: here the trio concludes with a slow near-minor melody for baritone framed by regular bass double-stops, another demonstration of Lazro's compelling mastery of a blues-based oratory, suddenly breaking into assertive high-pitched wails and bass blasts as he proceeds. Whether he's alone or in well-chosen company, Lazro is a special improviser, with a unique identity.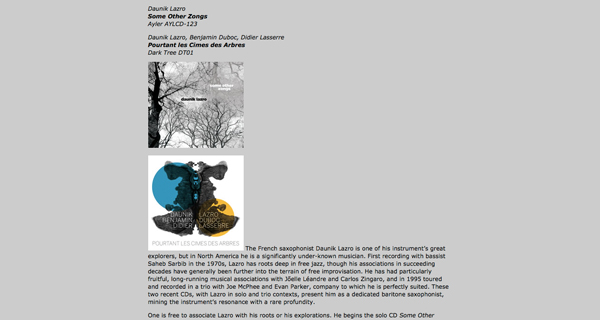 • • • • • • • • • • • • • • • • • • • • • • • • • • • • • • • • • • • • • • • • • • • • • • • • • • • • • • • • • • • • • • • •