• Ken Waxman // The Whole Note (septembre-novembre 2022)
Another double bassist, Benjamin Duboc of Paris, composed and directed an even more ambitious project. Entitled Volumes II – Fiction Musicale et Chorégraphique – Création pour Grand Orchestre et Corps Actants (Dark Tree DT 15 darktree-records.com), Duboc's Ensemble Icosikaihenagone (EI) runs through a single (nearly) 45-minute arrangement that brings to life this fictitious idea. Added to the 22 instrumentalists, who also vocalize, are the voices of three actors. With the text oscillating between imagery and sardonic comments, with voices often overlapping, it's best to concentrate on the music.
Beginning with near-silence, it's not until after the first four minutes that a harmonized chord from seemingly every ensemble member moves in a linear fashion but without losing the exposition's near-opaqueness. Although reed squeaks and string strokes are sometimes detached from the sonic murk, it isn't until repeated kettle-drum-like throbs from percussionists Thierry Waziniak and Amélie Grould introduces a dramatic upsurge from reed players Jean-Luc Petit and Sylvain Kassap, soon followed by Émilie Aridon-Kociołek's reflective keyboard interlude, fully define the musical program. Brassy triplets from trumpeters Jean-Luc Cappozzo and Franz Hautzinger join with the seven string players for a crescendo of undifferentiated timbres amplified with expressions from two female and one male voice. These fragments emphasize the composition's two contrapuntal currents: dissonant footfall-like tongue slaps from the reeds and romantic glissandi from violinists Mathias Naon and Patricia Bosshard. Confirming his manipulations of low pitches Duboc's next section matches Dorian Marcel's and Sébastien Beliah's percussive double bass motifs to Diemo Schwarz's electronic samples which interject mariachi-like brass, Latin dance, waltz music snatches and hooting voices. The sampled voices and electronic wave forms continue in the following sequence as they're toughened with Christiane Bopp's and Alexis Persigan's portamento trombone slurs, anvil-hard percussion smashes, percussion slaps and wordless bel-canto vocalizing. Reaching another polyphonic crescendo, the voices, electronic buzzes and trumpet triplets fade to silence. Now suspended in time, ones wonder how Volumes I and Volumes III sound.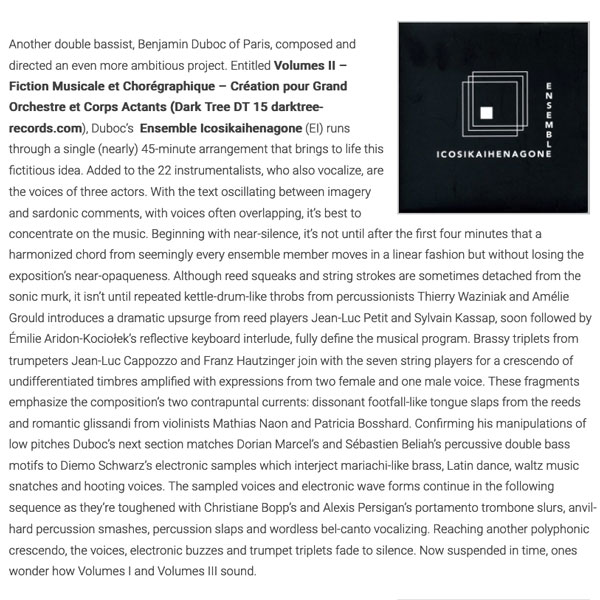 • • • • • • • • • • • • • • • • • • • • • • • • • • • • • • • • • • • • • • • • • • • • • • • • • • • • • • • • • • • • • • • •