• Mark Corroto // All About Jazz (14 juillet 2019)
In every decade since the 1960s, dedicated listeners have called for the world to get hip to the music of Horace Tapscott. In 1963 he formed the Pan-Afrikan Peoples Arkestra in Los Angeles. Like Chicago's Association For The Advancement Of Creative Musicians (AACM) and St. Louis' Black Artists Group (BAG), Tapscott's collective was formed to serve his local scene. Also, and this is probably more significant, his efforts were focused on community organizing and the empowerment of his people. His music could be heard through the turbulence of the Civil Rights Movement, the deaths of Martin Luther King and Malcolm X, the economic crisis of the 1970s, the L.A. riots of the 1980s, and the continual wars of the 1990s.
There have been sporadic attempts by the music mainstream to draw attention to his music. HatOLOGY released the five star 1989 sessions The Dark Tree 1 & 2 (1999) and there were two Arabesque discs Aiee! The Phantom (1996) and Thoughts Of Dar Es Salaam (1997). Nonetheless, his music (and Tapscott himself) remained a Southern Californian phenomenon and only the small label Nimbus West Records championed his music.
Twenty years after his passing, Bertrand Gastaut's Dark Tree label issued the last date Tapscott performed on before succumbing to cancer. This live recording from the Los Angeles County Museum of Art in July 1998 expands his Pan Afrikan Peoples Arkestra with a twelve-person choir, The Great Voice Of UGMAA (Union of God's Musicians and Artists Ascension) under the direction of Dwight Trible.
To call this recording monumental is to do it a disservice of understatement. Tapscott's Arkestra with Michael Session (saxophones) and Phil Renelin (trombone) is reinforced by three double bassists and three percussionists. Opening with the instrumental « aiee! The Phantom, » the pianist lays a soulful foundation of Gospel and blues-related swing, followed by Tapscott's reinterpretation of Juan Tizol and Duke Ellington's « Caravan. » Cloaked inside a percussive barrage and Trible's vocalese, the familiar tune reveals itself at its own leisurely pace, before detonating with Session's solo.
The true marrow of the evening's performance are the three vocal tracks with The Great Voice of UGMAA choir. « Little Africa » ends with a snippet of « Lift Ev'ry Voice And Sing »; « Fela Fela » was written for the Nigerian musician and human right activist Fela Kuti, and the title track asks us why didn't you listen (with a capitol 'L') to « Bird and Trane » (Charlie Parker and John Coltrane), « Lady Day » (Billie Holiday), Max Roach, « Moody's Mood and Dizzy Groove » (James Moody and Dizzy Gillespie)—and on and on the roll call continues, reminding us « it's the sound of freedom. »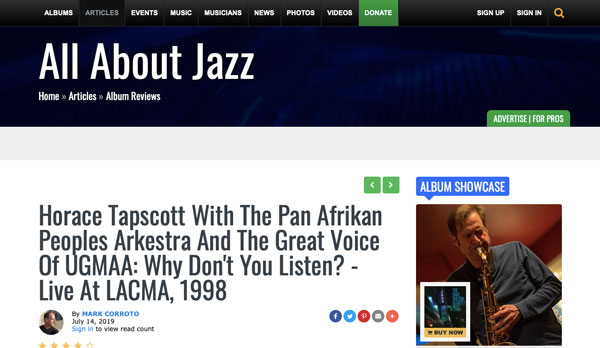 • • • • • • • • • • • • • • • • • • • • • • • • • • • • • • • • • • • • • • • • • • • • • • • • • • • • • • • • • • • • • • • •