• Chronique par Ed Hazell dans Point of Departure (juin 2018)
Two superb albums, recorded nearly 40 years apart, open windows into two periods in composer-woodwind player Vinny Golia's evolving creativity, revealing both continuity and contrast.The French Dark Tree label gives the previously unavailable wind quartet concert the deluxe historic release treatment with a booklet containing a detailed Mark Weber essay and period photographs and ephemera. The well recorded and mastered session features Golia, clarinetist John Carter, cornetist Bobby Bradford, and trombonist Glenn Ferris – all in tip-top form. Carter is especially irrepressible, pouring out torrents of notes with a fleetness and ease that's breathtaking. But the whole band is deeply engaged with the music. Bradford is lyrical and sly; Ferris plays from a whisper to a shout, riffing or uncorking long intricate lines as the occasion calls for; Golia's multi-instrumental prowess adds varied tone color and emotional heat.
The quartet is the sort of Band Not Normally Heard in Jazz that grew to artistic importance in the 1970s. There's no drummer, so the ensemble highlights the rhythmic function of horn players; each member is a drum in his own right. The intensity of sound production and the tension and release generated by layered voices improvising or interpreting a score create swing. It's these characteristics – and improvisation – that place the music squarely in the African American tradition, despite the classical instrumentation.
In the compositions "#2" and "Views," Golia is concerned with blurring the borders between written and improvised, implying the equal legitimacy of both. The writing generally uses either short phrases strung out in a series of variations or longer more involved lines with a continuous flow. Both approaches (often within the same composition) provide inspiration for spontaneous development. Few were better at making seamless transitions between music on paper and music invented on the spot than these players. When they improvise on "#2," for instance, they create structural elements, patterns, and repetitions that help order the spontaneous creativity. Their interpretations of the score are relaxed and spontaneous sounding, with improvised embellishments that help to further disguise the differences between composed and individually created. Every moment, written or improvised, sounds vivid, supple, and confident.
The line between improvised and composed parts in "Chronos I" and "Chronos II" are more defined, as the writing provides clear signposts or anchors between unaccompanied soloing. The soloing is uniformly excellent and the ensemble jumps on the compositions with an urgency and relish that's a joy to hear. There is nothing else like this in the early Golia discography and that makes the disc, along with the quality of the playing, a valuable addition to his catalog.
Forward to the present day to the sharply contrasting Trajectory, featuring a more conventional sextet, with three horns and three rhythm. If the wind quartet tapped into the '70s chamber-jazz zeitgeist, the sextet is in sync with more recent jazz hybrids incorporating rock and odd meters. Despite the surface stylistic differences, however, Golia's personal voice remains strong and clear.
Over the years Golia has developed as a composer. His melodies have grown long and intricate and their momentum carries them through fluid passages as well as rocky, disjointed ones. "Gift of the Nile" consists of a long, maze-like, post-bop melody picking its way over a slamming rock beat. "Sparks or Dare" is a carefully coordinated tangle of several lines. "Well, it's a valuable appendage …" derives its title from a ridiculous story Kramer tells in a Seinfeld episode about reuniting a woman with her severed toe, and is just as outlandishly complicated as the anecdote. Most of the titles on this double album reference pop culture, comic books, or science fiction and horror movies. "Doctor Loomis, Welcome Back to the Hospital" name checks Donald Pleasance's character in the Halloween movies; "Ugly Bags of Mostly Water" is how an alien race describes humans in an episode of Star Trek: The Next Generation. Golia's sense of humor and absurdity play a larger role here than the more sober titles on Live at Century City Playhouse.
Golia's sextet arrangements, like the wind quartet arrangements, highlight instrumental colors, different pairings of horns, and harmonies that shade and weight the lines in rapid, ever-changing succession. "Ts'emekwe" (another name for Sasquatch) passes notes and short phrases among two saxophones and trumpet for a kaleidoscopic effect. The aggressive "OK Doctor Xavier, I guess only women have … them" (Doctor Xavier: founder/leader of Marvel's X Men) lobs explosive horn riffs, simultaneous soloing, and hot, noisy guitar at you as it charges ahead. All the compositions have a breathless, what's around the corner excitement to them, a sense of brio and adventure that's contagious.
And the band tears into them. Their execution is tight and precise with martial-arts intensity and power matched by balletic grace. The soloists shoot out of the gate. On "By The End Of The Day" alto saxophonist Gavin Templeton bears down on his phrases, subjecting them to unexpected variations and developments and creating a delicious tension and release. His oddly placed staccato notes trip over each other then give way to galloping melody as he plays. Trumpeter Daniel Rosenboom builds ascending, cresting waves broken up by discrete notes during his solo on "AnanakI." Guitarist Alexander Noice, a powerhouse throughout the album, engulfs the band in a burning hot cloud as he solos on "OK Doctor Xavier."
Strong as they are, it's Golia who frequently makes the deepest impression. His fast and furious baritone wrangles urgent lines into ever more baroque contours as he charges through "By the end of the day …". In contrast, his solo on "The Penebus" seems deeply integrated with the band, making use of space that lets Miller Wrenn's thick arco bass and drummer Andrew Lessman's steady pulse shine through, then he spins lines that deliberately thread their way through Noice's dense weave of guitar effects.
Where once Golia was the young firebrand in a band with his elders (he and Ferris were the youngsters in the wind quartet), now he's the elder statesman leading a band of his former students. And it's to his credit that he is still in an exploratory mode, even after more than 40 years.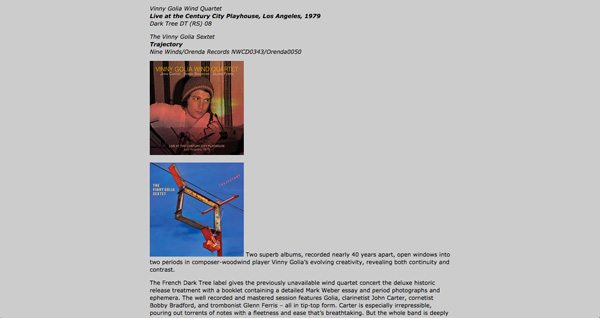 • • • • • • • • • • • • • • • • • • • • • • • • • • • • • • • • • • • • • • • • • • • • • • • • • • • • • • • • • • • • • • • •