• Chronique par Eyal Hareuveni sur Salt Peanuts (2 avril 2018)
The New York-based of cellist Daniel Levin, alto sax player Chris Pitsiokos and electric guitarist Brandon Seabrook chose a fitting title for its debut album. «Stomiidae» is a family of deep-sea, predator fish with frightening, sharp teeth, as can be seen on the album cover. This title captures well the spirit of this free-improvising trio – a strong affinity with the extreme, an aggressive, urgent and intense interplay and taking its music as seriously as its life.
The trio was recorded on April 2016 at Firehouse 12, New Haven, Connecticut. The three musicians are all experienced improvisers, including in such intense settings. Levin leads his own trios and quartet and collaborates with innovative improvisers as guitarist Joe Morris and trumpeter Nate Wooley. Pitsiokos leads his own CP Unit and collaborated with drummer Tyshawn Sorey and trumpeter Peter Evans. Seabrook plays in CP Unit, leads his own Power Plant group and plays in drummer Evans and drummer Tomas Fujiwara bands.
The restless, seven improvisations sound like an imagined meeting with these predator fish somewhere in deep, dark waters, and each is indeed called after fish from that unfriendly family. The improvisations are concise, brutal and tight. There is not enough time for extended breaths, long reflections or complex sonic manoeuvres, just head-on, tough and muscular sonic collisions. Keep eating or you will be eaten.
This kind of interplay may lead to some chaotic outcomes in other cases but Levin, Pitsiokos and Seabrook know how to vary the dynamics and the tension building in each improvisation, never sticking to the same combative strategy. The inner logic of this trio becomes more refined as this session develops, and on the latter improvisations the brief and fast, overlapped ideas gravitate into more ambitious forms of brutal encounters, even suggesting common yet still very loose courses.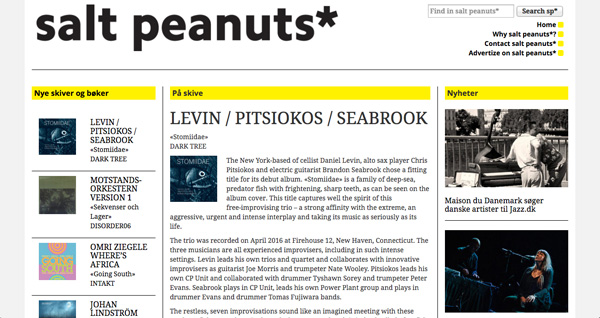 • • • • • • • • • • • • • • • • • • • • • • • • • • • • • • • • • • • • • • • • • • • • • • • • • • • • • • • • • • • • • • • •