• Chronique par Scott Yanow sur Los Angeles Jazz Scene (février 2018)
During 1976-81, Lee Kaplan booked an important Sunday night series at the Century City Playhouse that featured avant-garde jazz. On May 13, 1979, Vinny Golia, who had started his Nine Winds label two years earlier and was already becoming an important force in the Los Angeles music scene, organized a wind quartet specifically for the event. He called two of the great free jazz veterans who were based in L.A., clarinetist John Carter and cornetist Bobby Bradford, along with the always-adventurous trombonist Glenn Ferris.
The previously unreleased music, five lengthy performances, is now available on this CD from Dark Tree (www.darktree-records.com ) which includes excellent liner notes by Mark Weber. With Golia featured on flutes, piccolo, baritone sax and bass clarinet, there is plenty of color displayed in the interplay between the horn players. The music, all Golia originals, has arranged passages that contrast with plenty of stretches of free improvisation by the four horns. While there are some unaccompanied solos, most of the music finds all of the musicians creating music together, based very loosely on the themes. Rather than random notes and an excess of intense passion (as was sometimes true in the mid-1960s free jams held on the East Coast), there are plenty of thoughtful moments and a regular use of space in these improvisations which sometimes hints at modern classical music. It could be considered West Coast cool jazz of the avant-garde.
This is intriguing music that rewards repeated listenings and still sounds contemporary today despite the passing of 39 years.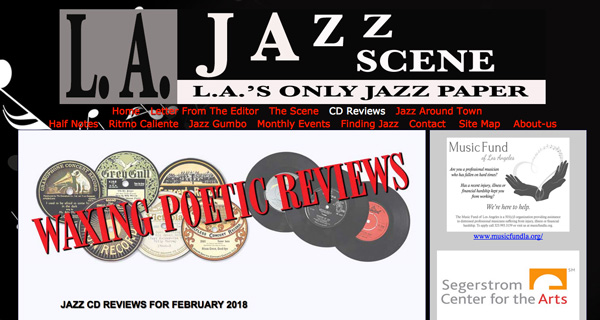 • • • • • • • • • • • • • • • • • • • • • • • • • • • • • • • • • • • • • • • • • • • • • • • • • • • • • • • • • • • • • • • •