• Chronique par Derek Taylor sur Dusted Magazine (4 janvier 2018)
Pan-reedists Vinny Golia and Anthony Braxton have much in common beyond their shared savant-like affinities for wind instruments. Both men bridged encyclopedic appetites for jazz and New music idioms through compositional constructs and notation systems that were distinctly their own. Each founded a record label (Nine Winds and Braxton House, respectively) to preserve and promote what would grow to become a prolific catalog of projects. Golia also gigged in Braxton's orchestra, the results of which can be heard on Creative Orchestra (Köln) 1978. Live at the Century City Playhouse dates from the following year when he had effectively solidified his stature as Braxton's Left Coast counterpart and continuing confrere. Something of a late bloomer musically (his first medium of artistic expression was painting), Golia had also managed to ingratiate himself into the Los Angeles creative community to the degree that musicians of the caliber of clarinetist John Carter and cornetist Bobby Bradford counted as ardent advocates and colleagues.
Second in the Dark Tree label's continual archival series documenting the Southern California scene of the 1970s, this set presents two complete concert sets by Golia's Wind Quartet comprised of Carter, Bradford and trombonist Glenn Ferris at a theatrical venue receptive to the music. A flyer included in the notes reveals that Nels Cline and Eric Von Essen shared a gig the week earlier. That valuable artifact joins a handful of period photographs (several depicting Golia with Braxtonian pipe in proximity) and an anecdote-rich essay by Mark Weber in painting a vivid portrait of the context and particulars behind the music. Another fun fact: nineteen days after the concert Golia, Carter and Ferris would hit the studio to assist Tim Berne on his first album. Marketed as chamber music in the weeks prior, Golia's program is ripe with contrapuntal passages that often seamlessly blend composition and improvisation. At the composer's behest it was also Carter's first recorded performance solely on clarinet. With his partners' instruments fixed commodities, Golia moves between flute, baritone saxophone, piccolo and bass clarinet.
A first set divides almost evenly between the the brightly-woven tone tapestry "#2" and the darker-hued fugue-like structures of "Views." A dive-bombing duet between Golia's flute and Carter's clarinet proves nearly performance stealing in its combined dexterity and intensity. Bradford affixes mute to briefly cool things off, but the four players are soon spiraling and diverging again at dizzying speeds. The two-part "Chronos" sets up Golia's flutes and bass clarinet as artful instigators alternating and alongside the solo passages for his colleagues, all of which play to the venue's natural acoustics. Carter, in particular, is jaw-dropping in the scope and alacrity of his improvisations. "The Victims" a dedicatory dirge to Steve Biko, conveys just the right degree of pathos brings the recital to a gratifying finish. Golia's musical career may have been at a chapter of relative nascence at this stage, but there's nothing apprentice or abecedarian about the winsome material beautifully restored here.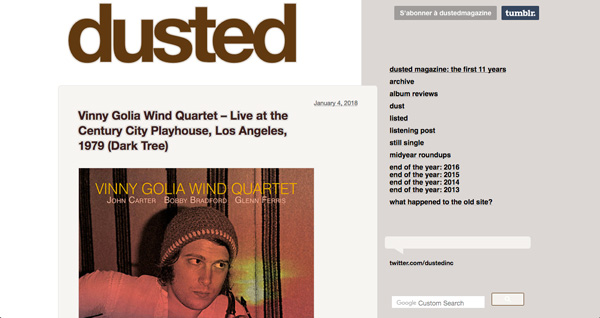 • • • • • • • • • • • • • • • • • • • • • • • • • • • • • • • • • • • • • • • • • • • • • • • • • • • • • • • • • • • • • • • •