• Chronique de Michael Rosenstein dans Point of Departure (juin 2015)
With the constant flow of reissues these days, it is lamentable how few of John Carter's recordings are currently in print. His late '60s releases on Flying Dutchman, Flight for Four and Self Determination Musicmade a fleeting appearance. Mosaic issued an indispensable compilation of his recordings for the Revelation label, Emanem has kept his phenomenal duos with Bobby Bradford in print, and his late '80s group session with Horace Tapscott on HatArt is available again. But his seminal solo and small group live recordings from 1979 on Moers and his phenomenal series of ensemble recordings on Gramavision and Black Saint are all MIA. So the announcement of the release of a live recording from 1975 with his quintet co-lead by Bobby Bradford was exciting on a number of fronts. This was a period that had not been captured on any previous recordings and the group with the dual basses of Roberto Miranda and Stanley Carter along with drummer William Jeffrey was a regularly working group that was also previously not documented.The clean, present recording captures this group in full flight. Carter had recently decided to stop playing alto sax, sticking to soprano and clarinet and his performance has a searing focus to it. He and Bradford had been working together for almost a decade at this point, and the two were actively composing pieces for their various collaborations. This set features "Love's Dream," "She," and "Comin' On" by Bradford and "Come Softly," and "Circle" by Carter, all pieces that combine distinctive themes along with frameworks for expansive improvisations. (It's no surprise that Bradford's music worked so well during a sojourn in London where he worked with John Stevens, Trevor Watts, and Kent Carter.) Carter's cascading flurries on soprano pair perfectly with Bradford's burred, full-bodied cornet, playing off of the churning momentum of the paired basses and Jeffrey's floating sense of time and free pulse.
Things open up with an extended extrapolation of "Love's Dream," starting off with a unison reading of the theme before Bradford takes off with his penchant for touching on the turns and phrasing of post-bop, extrapolating the melodic kernel into blistering freedom. This leads to a section of collective improvisation, with all five musicians respond to each other with a keen ear for open interplay setting the stage for Carter's final free flight on soprano. "She" is more of a slow simmer, with Carter's clarinet snaking around Bradford's keening lyricism. "Comin' On" is another 20-minute take, with Carter's labyrinthine solo setting up Bradford's probing excursion followed by a long section for basses and drums with a particularly gripping, musical solo by the drummer. Carter steps out on clarinet on "Come Softly" his lithe gracefulness matched perfectly by hushed bass and spare percussion shadings. Things finish out with a tag-team romp through Carter's "Circle" with plaited tempests of clarinet and cornet charging across the coursing energy of the basses and Jeffrey's drum torrents.
Sometimes these kinds of unearthed finds don't quite live up to their hyped expectations. This one, happily, fully delivers.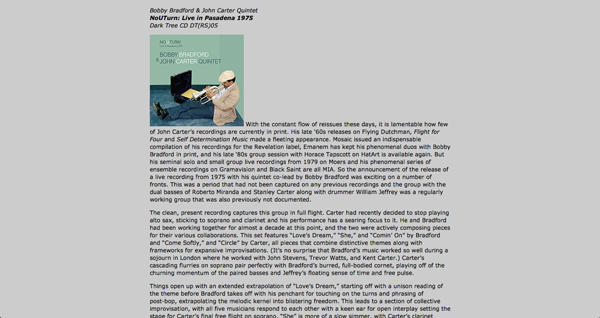 • • • • • • • • • • • • • • • • • • • • • • • • • • • • • • • • • • • • • • • • • • • • • • • • • • • • • • • • • • • • • • • •