• Chronique par Ken Waxman sur JazzWord (21 août 2014)
Lazro/Duboc/Lasserre
Sens Radiants
Dark Tree DT 04
Abdelhaï Bennani Trio
Present
JaZt Tapes CD 038
Jazz has long been predicated on the impeccable partnership of drums-and-bass, including Jo Jones and Walter Page; Vernal Fournier and Israel Crosby, Elvin Jones and Jimmy Garrison plus Jean-Jacques Avenel and John Betsch. Right now, the rhythm section duo which best epitomizes this equivalent extrasensory perception-like coordination in France is that of double bassist Benjamin Duboc plus percussionist Didier Lasserre. Although Duboc is a Parisian and Lasserre lives in Bordeaux, they link up often enough to have arguably become the go-to rhythm team for many of the country's most advanced improvisers.Trio sessions with saxophonists, Sens Radiants and Present are memorable instances of their background-foreground skill, with the former CD slightly more substantial than the second because the single improvisation is more cohesive than the three tracks which make up the other. Tellingly, both reed men are grizzled veterans of the Free Music wars. Gallic baritone saxophonist Daunik Lazro has played with everyone from bassist Joëlle Léandre to soprano saxophonist Michel Doneda since the early 1980s; while French-Moroccan tenor saxophonist Abdelhaï Bennani has been playing for almost the same length of time, but has been infrequently recorded. Most of his dates have included bassist Alan Silva or trumpeter Itaru Oki. Significantly, Lazro/Duboc/Lasserre's extended slab of free-form improv come from a music festival. The more restrained Bennani/Duboc/Lasserre improvisations are from a Parisian house concert.
There's almost palpable heat generated across the droning interface as the large sax blows out quivering gouts of chalumeau air or burbles swelling breaths into textures that flow into every spatial corner. Lazro's forceful lip pressure produces multiphonics that often rise to altissimo whistles or plunge cellar deep. Self-effacing, Lasserre's cymbal smacks, bell pealing and rim clanks resonate alongside Lazro's blowing, at points making it seem as if any overstated reed work is vanishing into and being redirected by the snare drum. This leaves Duboc's full-flavored tremolo bowing to create a warn continuum, which reels in the others' excesses should tone separation become too distant.
Three-quarters of the way in, the near-flamenco-like bow manipulation on Duboc's part grounds the exciting sound fissures produced by the others. Leading up to an extroverted climax, the bassist's muscular thumps join with continuous press rolls to construct a proper platform on which Lazro's beautifully modulated swoops and smears can be displayed. As the extended reed squeals and snorts lead to a final sequence of multiphonic tone expansion the resulting vibrations continue to echo after the piece is concluded.
Ostensibly more tentative in his reed strategy, Bennani's major statements are actually more apparent on the nearly 8½-minute "Desert Ballad" and six-minute "One Way/No Way" that complete the program than the nearly 28-minute initial exposition. Although there's plenty of reed variety on "Common Future" with vocalized sax lines, breathy smears and chromatic puffing, there are too many pauses, resulting in disconnects between the saxophonist and the rhythm section. Despite chromatic clanks on Lasserre's part and sophisticated bow and finger work on Duboc's, meandering distance shatters the improvisation into isolated ingredients
Most memorable on "Desert Ballad", the saxman uses his best Sonny Rollins-like sandpaper tone to produce a ballad that is poignant while staying true to the unsentimental credo of Free Jazz. Anchored by bass plucks, Bennani's slurping cries attain true emotion while avoiding sloppiness. Even better is the aptly named "One Way/No Way". Broken-octave techniques which segment into string rubs, drum ruffs and tongue flutters end as a protoplasmic-like mass of connected timbres to make up a satisfying finale.
Both CDs validate Duboc and Lasserre skill and creativity; Lazro's continued inventiveness and Bennani's tenacity. If one disc appears better than the other, it's because the standards set are so elevated.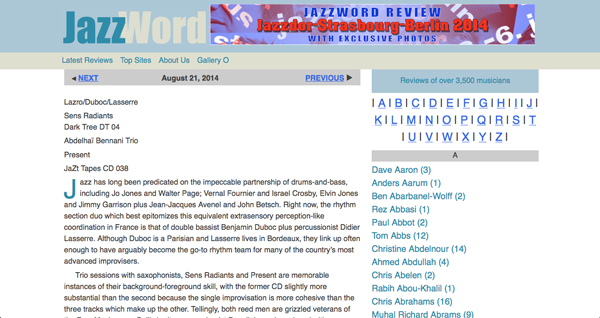 • • • • • • • • • • • • • • • • • • • • • • • • • • • • • • • • • • • • • • • • • • • • • • • • • • • • • • • • • • • • • • • •