• Chronique par John Sharpe dans The New York City Jazz Record (juin 2014)
Poet Steve Dalachinsky is hardwired for jazz. His book The Final Nite collects poems written while watching saxophonist Charles Gayle over a 19-year period; as a logical extension, it's no great stretch that Dalachinsky should perform his pieces to musical accompaniment. Previous foils include pianists Matthew Shipp and Connie Crothers and guitarists Thurston Moore and Loren Mazzacane Connors. On The Bill Has Been Paid, Dalachinsky pairs up with French bassist Joëlle Léandre, captured in Paris, in a recital so live that you can hear the chairs squeak.
It's a thrilling match. Both Léandre and Dalachinsky share a love of repetition and motivic development, the former with variations of melodic/ rhythmic phrases spun out with boundless imagination, the latter through reiterated phrases and exuberant word play. Dalachinsky stands up to repeated listening. He takes a conversational tone, both in his Beat- influenced writing and not-overly-theatrical delivery, in which he phrases like a saxophonist generating tension by unexpectedly delaying and then double- timing to catch up. At one point, in the standout "Vocalise (for Jeanne Lee)", he touches on the enduring appeal of his style, listing "song poem word sound scat": he manages to be all these things, sometimes simultaneously, creating expression that encourages appreciation on multiple levels.
Léandre is a sensitive partner, one who avoids being programmatic, but swells and drifts in spontaneous sympathy with Dalachinsky's "tonguey metronome", as when she switches to searing arco when he riffs on the blues during "Son of the Sun (after magic)". But she also erupts into intense singing bowed passages during pauses in the reading, as well as in three unaccompanied interludes of decreasing length between the poems. Dark Tree deserves kudos for their attractive packaging, which prints Dalachinsky's texts on an insert as well as the sleeve. It completes an enthralling experience.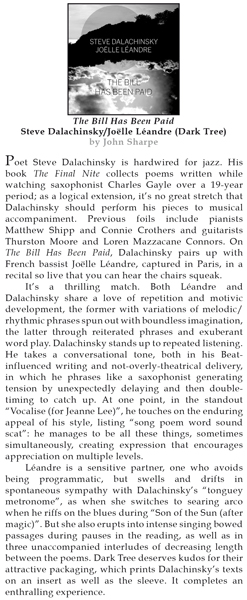 • • • • • • • • • • • • • • • • • • • • • • • • • • • • • • • • • • • • • • • • • • • • • • • • • • • • • • • • • • • • • • • •