STEVE DALACHINSKY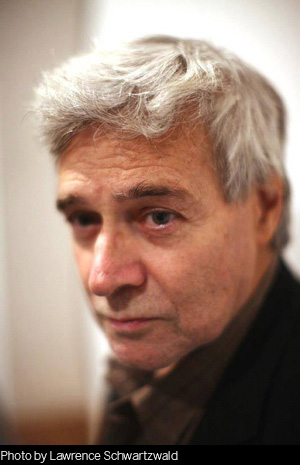 Steve Dalachinsky est né en 1946 à Brooklyn.
Son œuvre a été publié dans de nombreux journaux notamment : Big Bridge, Milk, Tribes, Unlikely Stories, Ratapallax, Evergreen Review, Long Shot, Alpha Beat Soup, Xtant, Blue Beat Jacket, The Brooklyn Review.
Il a collaboré à de nombreuses anthologies telles que Beat Indeed, The Haiku Moment, Up is Up But So is Down: NYU Downtown Literary Anthology, Unbearables anthologies: Help Yourself, The Worse Book I Ever Read, The Big Book of Sex et le fameux Outlaw Bible of American Poetry.
Il a écrit des notes de pochettes pour des albums d'Anthony Braxton, Charles Gayle, James « Blood » Ulmer, Rashied Ali, Roy Campbell, Matthew Shipp and Roscoe Mitchell…
Son album de 1999, Incomplete Direction (Knitting Factory Records), une sélection de ses poèmes lus en compagnie de différents musiciens a été acclamé par la critique.
Parmi ses recueils on note Musicology (Editions Pioche, Paris 2005), Trial and Error in Paris (Loudmouth Collective 2003), Lautreamont's Laments (Furniture Press 2005), In Glorious Black and White (Ugly Duckling Presse 2005), Dream Book (Avantcular Press 2005), Christ Amongst the Fishes (A book of collages, Oilcan Press 2009), Insomnia Poems (Propaganda Press 2009), Invasion of the Animal People (Propaganda Press 2010), The Mantis: collected poems for Cecil Taylor 1966-2009 (Iniquity Press 2011), Trustfund Babies (Unlikely Stories Press The Veiled Doorway & St. Lucie (Unarmed Press 20012) et Long Play E.P. (Corrupt Press, 2012).
Son livre The Final Nite (complete notes from a Charles Gayle Notebook, Ugly Duckling Presse 2006) a remporté en 2007 le Josephine Miles PEN National Book Award.
Ses ouvrages les plus récents sont Logos and Language, une collaboration avec le pianiste Matthew Shipp (RogueArt 2007) et Reaching into the Unknown, en collaboration avec le photographe Jacques Bisceglia (RogueArt 2009).
En 2005 il enregistre Phenomena of Interference, avec Matthew Shipp (Hopscotch Records).
Il donne de nombreuses lectures aux U.S.A., au Japon et en Europe. Il tient également une chronique dans The Brooklyn Rail.
Son livre A Superintendent's Eyes (Hozomeen Press 2000) est réédité par Autonomedia/Unbearables à l'automne 2012.
Ses derniers enregistrements dont des collaborations avec le saxophoniste Dave Liebman, la contrebassiste Joëlle Léandre et le groupe de rock expérimental français The Snobs.
▶ STEVE DALACHINSKY • JOËLLE LÉANDRE THE BILL HAS BEEN PAID DT03