ROBERTO MIRANDA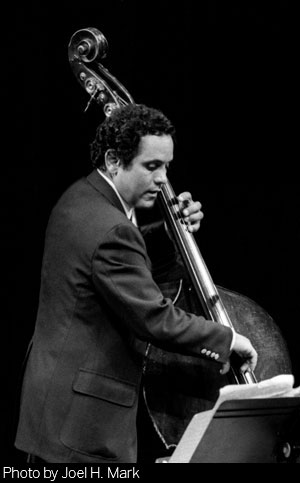 Roberto Miranda was born in New York city to Puerto Rican parents. His father, Louis, was a singer, percussionist, electrician and was also his first music teacher. His mother, Mary, was a homemaker, secretary and later a nurse. One of Roberto's fondest memories is watching his parents dance; they were quite an attractive couple. The family moved to Los Angeles in the mid 50's.
Louis Sr. taught Louis Jr.(Roberto's older brother) and Roberto traditional Puerto Rican percussion. Louis Jr. still plays drum set and bongos. Although Roberto's main instrument is upright bass, his first instrument was congas, which he still plays and teaches.
Roberto went on to earn a master's degree in music from USC with an emphasis was jazz studies. He also did Private studies on upright bass with Ray Brown, Red Mitchell, Bob Stone, Peter Mercurio, Bill Rene, Dennis Trembly, Fred Tinsley and Diana Gannett. His main composition teacher was George Heussenstamm. Roberto has received two composition grants from the National endowment for the Arts. (1976, 1983).The earlier work was performed by the Compton Symphony Orchestra and the later work was his Master's recital at USC with the Home Music Ensemble which he led.
Roberto has recorded close to 100 LPs and CDs, five have been under his own name.
Over the years he has led many different groups consisting of different instrumental variations.
His professional mentors, in whose bands he played, have been; Bobby Bradford, John Carter, Horace Tapscott and Kenny Burrell. He has toured Europe, the Middle East, Australia, Canada, Mexico and the U.S. with his mentors, fellow musicians and his own groups.
He has taught at Compton Community College (5 Years), USC (5Years) and is still teaching at UCLA (23Years). He has also taught privately for more than 35 years.
Roberto has been a member of PAPA (the Pan-Arian Peoples Arkestra and UGMAA, Union of God's Musicians and Artists Ascension), for over 50 years.
He is a husband, father and grandfather.
https://www.robertomirandamusic.com
▶ BOBBY BRADFORD & JOHN CARTER QUINTET NO U-TURN – Live in Pasadena, 1975 DT(RS)05
▶ ROBERTO MIRANDA'S HOME MUSIC ENSEMBLE LIVE AT BING THEATRE – Los Angeles, 1985 DT(RS)14