JOHN CARTER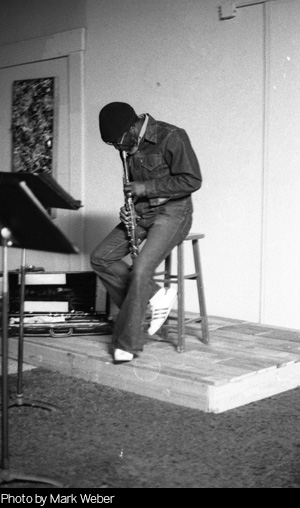 John Wallace Carter was born in Fort Worth, Texas, on September 24, 1928, and was a childhood friend of Coleman and drummer Charles Moffett. He earned a bachelor's degree in music education from Lincoln University in Jefferson City, Missouri in 1949, and a master's degree from the University of Colorado in 1956. He taught in public schools in both Fort Worth then moved Los Angeles in 1961, where, with Coleman's encouragement he formed a band, the New Art Jazz Ensemble (NAJE), with trumpeter Bobby Bradford in 1964.
Carter conducted orchestral versions of Coleman's work at UCLA in 1965, and he was initially a follower of the saxophonist's "harmolodic" approach to composition and improvisation. On the NAJE's 1969 album Seeking, he demonstrates great facility on alto and tenor saxophones, as well as clarinet.
The NAJE continued as a group until 1974 and released a total of four albums on the Revelation and Flying Dutchman labels. After the NAJE disbanded Carter played clarinet exclusively, and progressively came into his own voice as an improviser and composer.
In the late 1970s, he played in a group called Wind College with flutist James Newton and bassist Red Callender, and was the subject of a documentary, The New Music: Bobby Bradford and John Carter in 1980. He played at clubs and festivals in Europe and the United States, both as a leader and as a sideman, with groups that frequently included Bradford, Newton, and Roberto Miguel Miranda. In the 1980s he led the clarinet quartet Clarinet Summit, with Alvin Batiste and Jimmy Hamilton and with David Murray on bass clarinet. As an improviser, Carter came to share affinities with the work of other free-jazz clarinetists, such as Perry Robinson and Theo Jörgensmann.
In the 1980s, Carter focused increasingly on composition, starting with Dauwhe, an octet he recorded in 1982. The piece would become the first part of Roots and Folklore, and reveals his evolving approach to both instrumentation and creative improvisation. With focused interplay and overlapping of tones and ideas, Carter's clarinet takes an omnipresent position.
Carter and Bradford's musical relationship was not unlike that of Coleman and Cherry in their pianoless quartet. In this setting, Carter and Bradford embrace the composition's pastoral, evocative voices of tribal Africa while the sleekness and idiosyncratic horns swirl like apparitions above the manic, even brooding rhythm. Both experimental, yet familiar, Dauwhe augurs many of the ideas Carter later explored in the remaining volumes of his history: clashing cultures, forces of myth and predation, lust, and unadulterated beauty amid the chaos. Neither free music nor swing, this album shows elements of both, and has layers of ensemble work similar to massive conductions of Butch Morris.
Carter's compositions, intriguing in their varied instrumentation, draw on the folk wisdom of country blues, the sophisticated dances of swing, the figured bass of bebop, and the violent clashes of free jazz, all combined in careful doses. The five parts of Roots and Folklore explore deep feelings about the African diaspora, starting with Dauwhe, named for an African goddess of happines. This is followed by meditations on imprisonment in Castles of Ghana, the middle passage on Dance of the Love Ghosts, chattel slavery on Fields, and the youthful exuberance of Harlem between the World Wars in Shadows on a Wall. The works vary in instrumentation, and are both expressionistic and impressionistic.
Carter employed equal parts roots and folklore in his explorations of African-American historyhis attachments to what came before looks forward in both style and quality of style. Carter's work is articulate and allows for a sinister wilderness to penetrate even his most designed pieces, all of which are a statement about Africans who became African-Americans, and the immense losses in between.
John Carter, recorded the final chapter of Roots in 1989, and died of lung cancer in Los Angeles on March 31, 1991.
▶ BOBBY BRADFORD & JOHN CARTER QUINTET NO U-TURN – Live in Pasadena, 1975 DT(RS)05
▶ VINNY GOLIA WIND QUARTET LIVE AT THE CENTURY CITY PLAYHOUSE – Los Angeles, 1979 DT(RS)08
▶ ROBERTO MIRANDA'S HOME MUSIC ENSEMBLE LIVE AT BING THEATRE – Los Angeles, 1985 DT(RS)14