DAUNIK LAZRO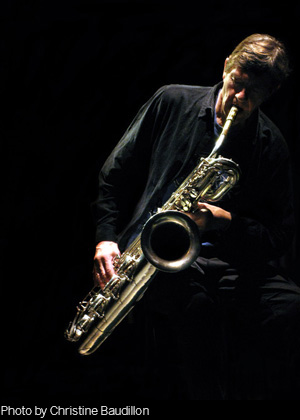 The French saxophonist Daunik Lazro combines a tart, piercing tone with a quick mind, and flexible philosophy of music-making. His professional start was in the bassist Saheb Sarbib's orchestra, a relationship he maintained through most of the '70s, including three recordings.
His first steps playing his own music involved a radical resizing of the cast on stage, going from orchestra playing to solo saxophone concerts and duets. In the '80s he busily played with many on the European improvised music scene, including bassist Jean-Jacques Avenel, cellist Tristan Honsinger, violinist Carlos Zingaro, drummer Christian Rollet, saxophonist Evan Parker, trombonist George Lewis, bassist Joëlle Léandre and pianist Irène Schweizer.
In the mid '80s Lazro expanded his partnerships to include dance and theatre projects. He formed a particularly fine trio in 1987 with fellow saxophonist Michel Doneda and the brilliant percussionnist Lê Quan Ninh, playing at many of the major European festivals and also touring in Canada.
Duets with the American free improviser Joe McPhee are a 1991 discographical highlight. In 1993 he started a quartet called Outlaws in Jazz with Jac Berrocal, Didier Levallet and Dennis Charles.
In 1995 he toured Europe in a triple threat combination with both McPhee and Parker, and the former artist also joined him in a quartet the following year with the superb British bassist Paul Rogers.
In 2000, he recorded « Zong Book » a solo album on alto and baritone saxophones. During the last decade he recorded and performed with the electroacoustic duo Kristoff K.Roll, vocalist Phil Minton and with different quartets: Aérolithes (Michel Doneda, Michael Nick and Laurent Hoevenaers), Rekmazladzep (Thierry Madiot, Dominique Répécaud and Camel Zekri), Qwat Neum Sixx (Sophie Agnel, Michael Nick and Jérôme Notinger).
▶ DAUNIK LAZRO • BENJAMIN DUBOC • DIDIER LASSERRE POURTANT LES CIMES DES ARBRES DT01
▶ DAUNIK LAZRO • BENJAMIN DUBOC • DIDIER LASSERRE SENS RADIANTS DT04